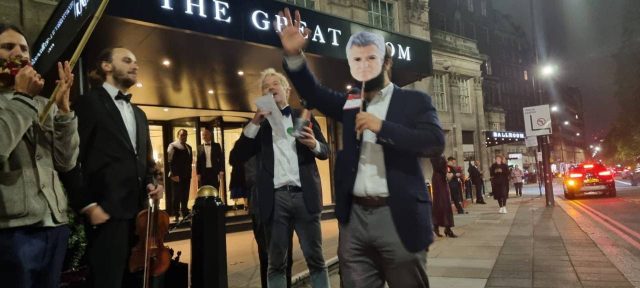 Extinction Rebellion target PR Week Awards to Highlight the part PR Firms play in supporting Climate Destruction
Extinction Rebellion this evening targeted the 2021 PR Week Awards held at Park Lane's Marriot Grosvenor House hotel. The group were highlighting the deception and greenwashing activities of PR companies who try to hide their work devising communication strategies for some of the world's worst polluters and their funders.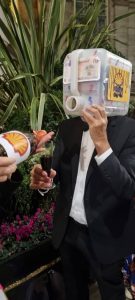 The group, many in black tie, hosted their own red-carpet 'Charred Earth PR Awards' ceremony outside the venue, complete with their own baroque ensemble and glasses of 'crude oil' in champagne flutes, and awarded the "Charred Earth Enabler of the Year" award to holding company WPP for the sheer scale of their work for the worst polluters globally.
The campaigners also highlighted the disingenuous claims of PR companies aiming for carbon neutrality in their own offices, while ignoring the enormous emissions of their clients, whose sales they are trying to increase.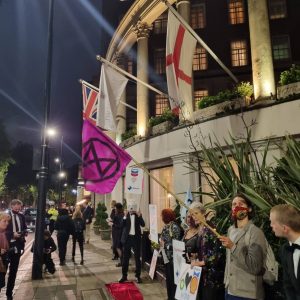 Ian McDermott of Extinction Rebellion, a former PR and now science teacher, commented: _"10 years ago in PR you would occasionally see a colleague poached for a massive salary to go and PR for the tobacco industry. PR contracts with fossil fuel companies, climate-destroying banks and the beef industry are today's unacceptable face of communications, and teams working on them are often put in silos within agencies to avoid demotivating colleagues working on less toxic brands. Agencies should be refusing this work altogether and putting their creative skills to work on the right side of history."
If you want to be on the right side of history
Join us
https://extinctionrebellion.uk/