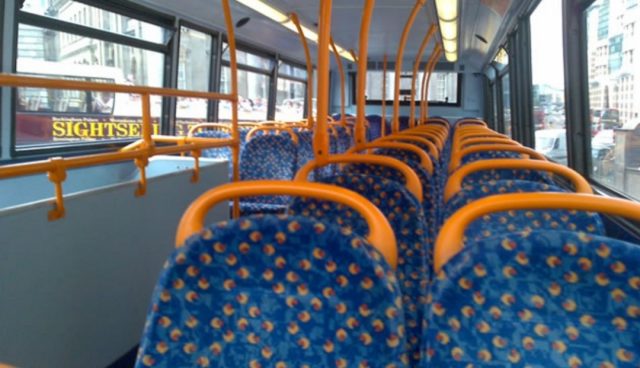 PRIVATE PROFIT
Local bus privatization in Britain.
Privatization has left people fleeing public transportation, with significant implications for the climate crisis. The UK government's new decarbonization strategy will do little if zero-emissions buses are running empty.
"Public Transport, Private Profit: The Human Cost of Privatizing Buses in the United Kingdom" is authored by Former UN Special Rapporteur Philip Alston, who conducted a UN visit to the UK in 2018, as well as Bassam Khawaja and Rebecca Riddell, co-directors of the Human Rights and Privatization Project at NYU Law.
The report finds that the government's 1985 decision to privatize and deregulate the bus sector in England (outside London), Scotland, and Wales has failed passengers and undermined their rights.
Taxpayers are subsidizing corporate profits, while private operators are providing a service that is expensive, unreliable, and often dysfunctional. Fares have skyrocketed while ridership has plummeted, undermining efforts to reduce greenhouse emissions.
This approach has also significantly impacted individual's lives and rights. We found that people have lost jobs and benefits, faced barriers to healthcare, been forced to give up on education, sacrificed food and utilities, and been cut off from friends and family.
The government's new strategy for England leaves this deregulated system in place, and does not address its structural shortcomings.
With Glasgow hosting the UN Climate Change Conference in November, on the heels of the harrowing IPCC report finding that we are already out of time to prevent 1.5 degrees Celsius of global warming, public transportation is crucial for limiting emissions.
Adding a bus service to a road can double the number of people it carries and one fully loaded double-decker bus can take 75 cars off the road. Investments in the bus system are cost-effective and changes can be implemented quickly. But instead of providing an attractive alternative, deregulated buses have been driving people away from public transportation and into their cars.
We are urging public control of bus transport as the default approach, which would be more cost-effective and allow for reinvestment of profits, integrated networks, more efficient coverage, simpler fares, consistency with climate goals, and public accountability. Given the important of public transport on access to essential services and rights, we are also calling for a statutory minimum of level of service frequency.
https://chrgj.org/2021/07/19/press-release-public-transport-private-profit-the-human-cost-of-privatizing-buses-in-the-united-kingdom/