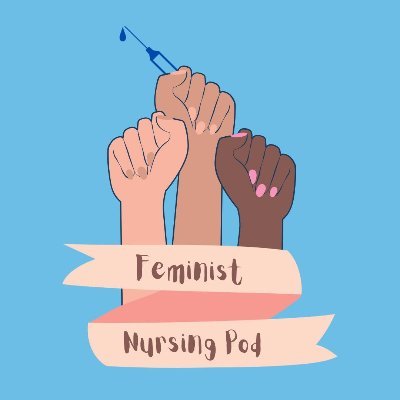 Launching Sunday 17th October, a new podcast will be available on Spotify called The Feminist Nursing Pod.
The podcast aims to tackle "the personal and political issues, lovingly termed 'The Bullshit', which impacts the nursing practice."
Holly, Lindsay and Ruby are all NHS nurses fed up with the patriarchy and austerity policies and have joined forces to create a podcast that will centre the voices of nurses and healthcare at its core.
"The past year has seen nurses turned from heroes to ungrateful villains often in a
matter of days or hours. The Feminist Nursing Pod will allow us more breathing space then the short media appearances allow for, giving you more than just soundbites and the same old campaign lines but getting to the heart of nurses'experiences and realities."
Holly speaks passionately about ensuring that nurses have a voice "Feminism for me is about ensuring that the women I work with have access to the properly funded services that safeguard their wellbeing and empower them to make informed choices. 
For years we haven't had that and it is for that reason that I am a political nurse and take action within the public sphere as a feminist, to fight for this change. When we work together to ensure that women, especially nurses, have a voice in the middle of a global pandemic, we live up to those values".
Not one to ever say something and not back it up with action Holly, Ruby and Lyndsay have created this space for women's voices in nursing to ensure that they are heard and provide a space where people can ensure they are hearing a true and factual representation of what is happening within the nursing practice and the NHS.
In the first series of the podcast, the three will discuss the ongoing pay dispute in
the NHS as it plays out through the winter of 2021. By tracing the history of the pay dispute to where we are today and speaking with campaign groups and unions
demanding more from the government, the podcast will explore some of the directions on where we go next.
The NHS has faced brutal cuts under austerity measures brought in by the Tories in 2010. Too often the voices of those people that are affected by the cuts are not heard either through the worry of speaking out or not being able to gain a platform to be heard. Holly, Lyndsay and Ruby have decided enough is enough and are blasting their way onto their own platform to cut through the MSM bullshit and tell everyone that will listen what the reality is on the frontline.
Offering a feminist insight into the tales of nursing practice and giving a platform to female voices with a sprinkle of that famous bedside humour The Feminist Nursing Pod will deliver the conversations you wish you were hearing and offering tools to resist The Bullshit. Make sure you don't miss it this Sunday 17th October.
To find out more visit their Twitter page @FemNursePod