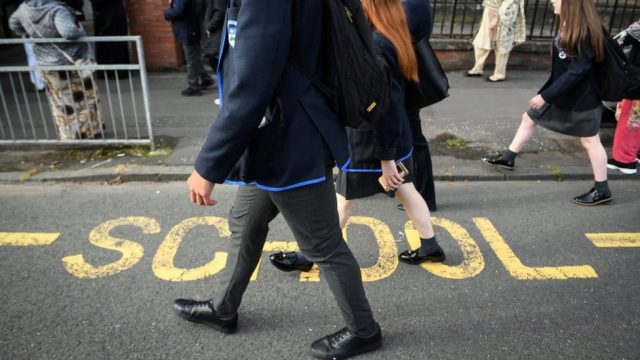 Parents United: Against unsafe schools, is a new parent-led pressure group set up in May to protest the government's choice to fully re-open schools.
On the 5th November they led a parent's strike campaign, starting the day with a live video called 'the alternative school run' which reached over 12,000 people. The group, which now has 15,000 members is only concerned about the safety, health and education of children and have been dismayed at how the plan to reopen schools has ignored the input from teaching unions, teachers and parents.
Tony the founder of Parents United has a background in bio-statistics, epidemiology and genetics and said "I got increasingly furious because I didn't think there was a sensible, safe and sustainable approach to reopening schools and I thought a much better approach given the number of deaths that were occurring during May, was to plan for a blended learning approach."
Since educational settings re-opened in September the R rate increased exponentially and a second wave of the virus caused a second partial lockdown, which did not include schools and colleges. The Office for National Statistics (ONS) found that during the half term the percentage of pupils testing positive for Covid fell. The National Education Union (NEU) has used the research to support their campaign for closing schools during the lockdown stating, "this confirms the role of schools in the transmission of the virus".
One parent spoke of a child that had been out of school for four weeks out of seven due to having to self-isolate, the approach to schools reopening is failing and the argument that children must attend schools is mute if they are continually having to go into self-isolation.
Parents have not been given a choice in the decision to reopen schools, instead, parents are being threatened with punitive fines of £60-£120 for absences. Parents United campaigner, Jennifer says "People are frightened of the system, they don't want the threat from services. Some families have received notice of fines, which is the threat of a fine and can be very daunting and a small number of parents are getting fines."
Jennifer herself has visits from educational welfare officers, who can turn up at the door unannounced and speak to her and her son in the front garden for the whole neighbourhood to see. Jennifer's son is autistic so any sudden change in routine can cause great upset. One parent had to remove her child from the bath so that the welfare officer could speak to them on the doorstep. Parents are worried about what the welfare officers would report to the school if parents didn't engage with them but this doorstepping behaviour is intimidating.
That is why Parents United is offering advice and support to parents, they state they are not qualified to give legal advice but will answer questions to the best of their ability. The campaign is also supported by barrister, Mark McDonald who fought against the leadership coup of Jeremy Corbyn in 2016. He has offered to represent any parent in court for free if they receive a fine for taking their children out of school due to the pandemic. On the alternative school run video Mark stated that he has begun the process of suing the government.
Jennifer has been campaigning with Parents United since May and says, "Keeping children off school is a community action, the schools benefit from reduced class sizes, reducing the chance for the virus to spread. No one wants children to go without education but there are alternatives whilst we endure this pandemic." She cannot understand why government ministers are saying there isn't the facility to teach children at home when she herself is using, Oak Academy, BBC Teach, BBC bitesize amongst other free online services to educate her own child. "Why are they saying that they don't have the resources to home educate when they clearly do and if it is because of access to the internet or devices then that needs to be facilitated.
The Parents United campaign is supported by the GMB Union who donated £500 to the cause along with Bakers Food and Allied Workers Union (BFAWU), Unite the Union, Laura Pidcock, Bell Ribeiro-Addy MP, Grahame Morris MP, Rachael Maskell MP, amongst many others including a Game of Thrones actor. Jennifer says "One thing that is damn sure is that every day the campaign is growing".