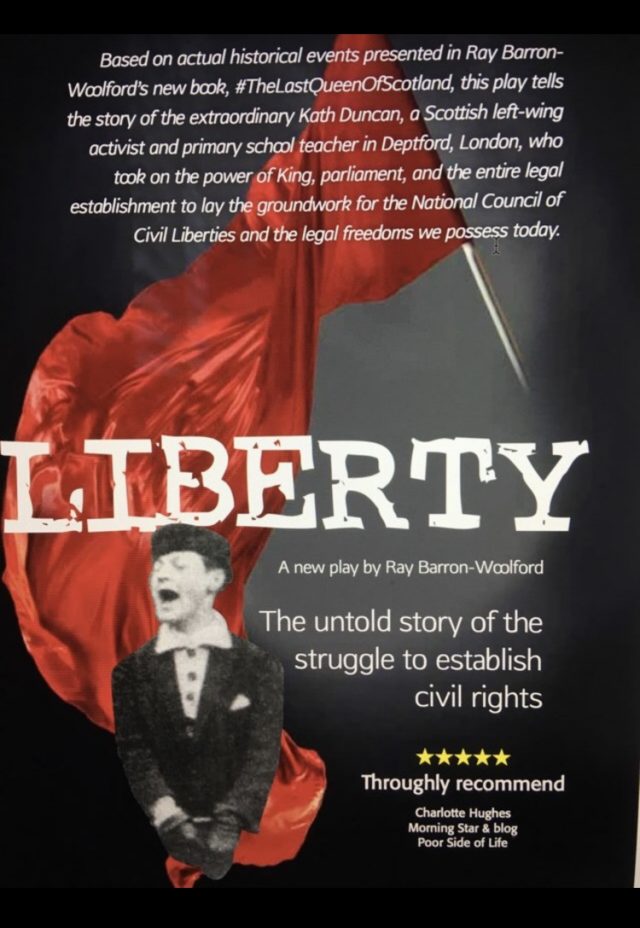 We spoke to highly respected director Karen Douglas about her new project, directing Ray Woolford's new play
LIBERTY
I am really excited to be directing Ray Barron-Woolford's play, Liberty, about the working-class London based Scottish activist, Kath Duncan. Not only is this a subject matter very close to my heart, and my own experiences as a socialist activist of more than 40 years, but Ray has assembled a very exciting cast and his script includes some amazing staging and production concepts.
https://www.ticketsource.co.uk/deptford-heritage-festival
Following in the footsteps of the wonderful Donmar Warehouse all female Shakespeare trilogy, and recent productions by the National Theatre and other well respected companies, the casting is gender fluid and I am very much looking forward to meeting and working with the diverse, multi-talented team.
Ray's concept of a fully immersive theatre piece, incorporating multi media and encouraging full audience engagement and participation, is something I am very familiar with, having regularly incorporated some or all of this in productions by my own theatre company SpartaKi, over the last 15 years. I am delighted to be directing Liberty and relish the opportunity to bring Ray's vision to life, while adding more than a few distinctive touches of my own.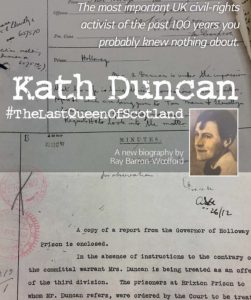 Kath was a real force of nature who was never afraid to speak truth to power. A tiny pocket rocket, little over 5 foot tall, she needed a box to stand on so she could be seen as she delivered her fiery, inspiring speeches. Kath embraced and spoke up for all disenfranchised minorities of her time – women, homosexuals, transvestites, the poor and unemployed, anyone without a voice of their own. At no small cost to herself. Kath's activism and prison sentences resulted in her losing her beloved teaching post and affected her health for the rest of her short life, ultimately contributing to her death.
Kath's legal case was the first test case supported by the newly formed Council of Civil Liberties, which we now know as Liberty. The imprisonment of Kath and other activists, was raised in Parliament, and eventually set a legal precedent for the right to freedom of speech and peaceful protest.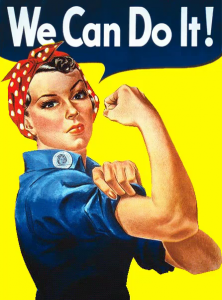 Although set in the 1930s, Kath's story is still very much the story of our times, and I intend to bring this out clearly in this production. The real life characters in Liberty may be long gone, but their stories are still highly relevant, and many today will recognise and relate to their struggles, struggles that are still ongoing.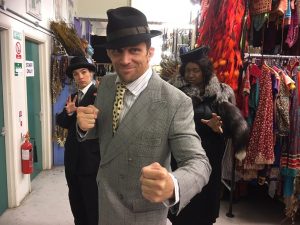 Still nowadays, in the 21st century, the poorest and weakest in society, and those most marginalised and discriminated against, are being not only punished for their mere existence, but also blamed for all the ills of society. Ills that have been imposed by a greedy, self serving, upper class political elite.
Kath would despair at the current manufactured, politically motivated austerity regime punishing, humiliating and grinding down the poorest and most vulnerable in society, and she would be horrified at the widespread rise of the extreme right wing, manifest in Brexit, Trump, Brazil, Hungary and indeed throughout Europe and the rest of the world.
Feminism Symbol Vector. Feminism Power. LGBT Society. Female Icon. Feminist Hand. Girls Rights. Female Future Protest. Woman Resist. Isolated Illustration
Historically women suffer more in times of economic uncertainty and 'belt-tightening' policies. They still tend to occupy the majority of (generally low paid or unpaid ) caring roles, and other positions in the publicly funded – and so ever threatened by cost cutting – sectors of healthcare, eduction and childcare.
In her own time Kath was used then abandoned and shunned by the political party she loyally served and supported. Her activism was first and foremost about making life better for 'her people', at a grassroots, local community level, and she had little time or inclination for internecine party political strife. That her invaluable contribution to the class struggle has been ignored is disappointing, if not particularly surprising. There are many unsung heroines working in communities the length and breadth of Britain today who are never lauded or acknowledged. History is, after all, written by the victors. And these are rarely working class women.
This is therefore a very timely production of Liberty. It is time, and our duty, to reclaim Kath's story, recognise and celebrate her struggles and successes, and celebrate her continuing relevance. Were she still with us, Kath, and her box, would be very much in demand.
Links: @Raywoolford  https://m.facebook.com/SpartaKi.Theatre/
@SpartaKiTheatre