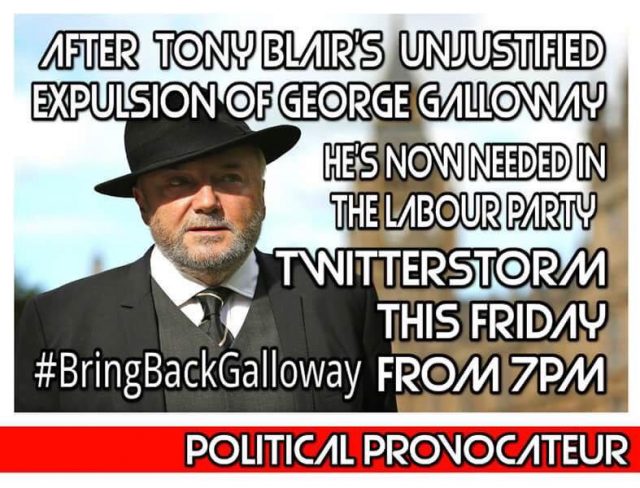 Tonight a Twitterstorm is taking place and if it is like any of the recent left-wing twitterstorms of late it will take the number 1 spot in the UK Twitter trends.
#BringBackGalloway is a Twitter protest to demand that George Galloway is welcomed back to the Labour Party.
If you are a Labour Party member and you think @georgegalloway shouldn't be reinstated as a member, then you're in the wrong party! George is more of a Labour man than the most Labour of Labour men(or woman)! #BringBackGalloway 7pm tonight on Twitter. Put this right @UKLabour

— Nick (@NickFunds) August 10, 2018
In 2003 George Galloway was expelled from the Labour Party after thirty-six years of membership.
George Galloway protested the Iraq war and in Galloway style was not quiet about it either.
He was found guilty by the NCC for inciting Arabs to fight British troops, inciting British troops to defy orders, he threatened to stand against Labour MPs and he threatened to stand against Labour.
However, many shared Galloway's legitimate opinions and Mr. Galloway felt he was being singled out for punishment for voicing those opinions.
Labour Legend Tony Benn gave evidence at Galloway's trial in his favour, pointing out that Tony Blair had described peace protesters as having "Blood on their hands".
Now fifteen years later, we know from the Chilcott Report that anti-war protesters like Mr Galloway were the voice of reason and were right. Tony Blair and his ilk are the ones that have "Blood on their hands".
We have a socialist Labour Party again and it may be the chance for Galloway to rejoin the party that he joined when he was just a young 13yr old boy.
Listen to George Galloway on Talk Radio tonight till 10pm Mother of all Talk Shows