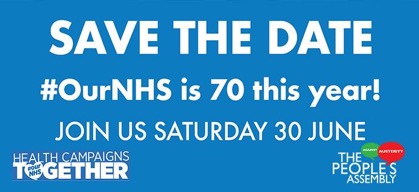 On the 30th June our NHS turns 70. Seventy years is a cause of celebration but after eight years of Tory Austerity it's also a day where we can demonstrate to show our support for our much loved public service. 
Underhanded selling of our NHS to private buyers, bit by bit threatens to terminally harm our health service. 
That is why it is essential that we make each and every one of our voices heard and call on everyone that values our NHS to support the demonstration to renationalise our NHS.
Unity News is 💯 ‰ behind this event called by Health Campaigns Together and People's Assembly.
Please put it in your diary – London – 30th June 2018.
Assemble at Portland Place at midday for a march to a site where we will hear speeches and listen to bands and truly celebrate our NHS, our Dr's, Nurses, staff and its achievements over the last seventy years. Whilst also showing support for the continuation of a health service which is free and publicly owned.