We all know we're in real trouble in this country, don't we ? People are starving, helpless to help themselves and getting no support from tax payer funded, central government's DWP due to Tory austerity siphoning it all off to keep their lavish lifestyles going.
This government's ideology is killing people.
But do we need the government anyway ?
Unite the Union and Gloucester Labour started a conversation called,
'A New Economy'
We went along to see what they were saying.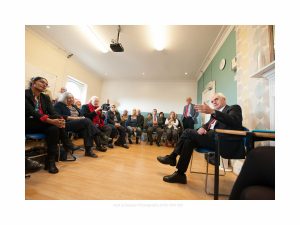 After the initial meet and greet where John McDonnell (Shadow Chancellor) and Fran Boait (Labour parliamentary candidate for Gloucester) spoke to local people and heard many stories of suffering under Tory austerity as well as great actions being developed by community groups to combat it, we went outside the Guild Hall in Gloucester and John and Fran talked to the BBC and ITV, backed by the brilliant local Waspi campaigners.
We then interviewed John in front of local http://gloscan.org/ climate activists Dr Richard House and Richard Maisey.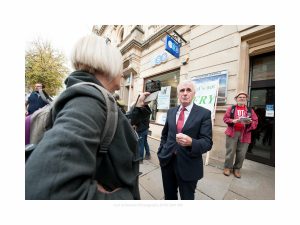 John McDonnell interview https://youtu.be/EIH_MsxRJWk
We all went back inside for the main event where John said he feels for the first time that a general election is coming soon, as the house is doing no business at all, this has never happened before in the British government. It's becoming just like the Northern Irish government .. the dup have vetoed all Tory proposals and the government is barely functioning .. that's how he is able to come to events like this during the working week.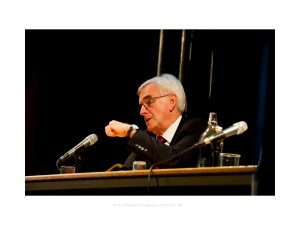 He said his purpose in coming to local constituencies is to tell us all what we need to do locally, we need to put forward and investigate local economic proposals for groups/companies asking for funding when the labour government comes.
That means we will have all the plans ready on the shelf for the people's bank and know what local proposals will be funded by them.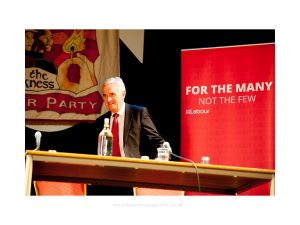 Becca Kirkpatrick from Universal Basic income then spoke about making the UK economy work for society, not a society that works for the economy. It was suggested that Gloucester could pilot a basic income scheme.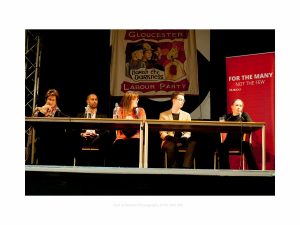 A representative from North wilts suggested if the 570,000 members gave a tenner each we could build our own social housing, we wouldn't need the government, and we could train young plumbers, electricians and carpenters on site too .. cooperative local labour.
Ros Scott-Hodgetts spoke about the Preston model and how it could be applied locally. For example, Preston pensions are being saved by pension pots only being invested in local projects.
https://thenextsystem.org/the-preston-model
Steve Gower spoke about his concerns over SIBs, Social Investment Bonds, a means for private money to support community services? or worryingly, a way for private business to profit from community services?
Steve Gower interview https://youtu.be/dWNbvlaws2c
If applied locally, correctly and transparently, this could be a valuable tool to support local services, at least until we can use the Labour Governments, people's bank.
Tom Coole spoke about how a local council can work to support these initiatives to build a community system of finance and governance.
Nick Bailey spoke about how Unions can help with local support to protect people's jobs and incomes.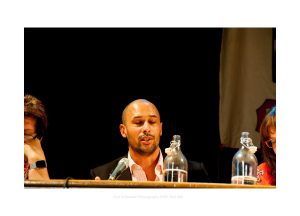 Professor Danny Dorling spoke about Wealth and inequality, saying that a new economy is a great way forward and while we have Tory austerity, probably the only way forward for most of us but what we really need is a Labour government, ready and able to support all the fantastic work being done and the ideas proposed that day.
Prof Danny Dorling interview https://youtu.be/LQowJbfLfr0
David Drew spoke about the need for collaboration and communication between local CLPs and how, together, we can absolutely, do this, as the Preston project has shown.
David Drew interview https://youtu.be/hCMA7ixyFsY
Fran Boait spoke about the problems Gloucester is facing and appealed for everyone in the community to work together to put these ideas into practice.
Fran Boait interview  https://youtu.be/l_-ef46p9vg
We came away from this extraordinary event energised! With a renewed passion for our mission to make lives better for everyone, we recommend attending meetings like this in your constituency!
And if you don't have meetings like this ? Start one yourself!  Invite John McDonnell , Prof Dorling and your local community and join the conversation
'A New Economy'
Speakers :
John McDonnell Shadow Chancellor
Nick Bailey, Unite Regional Officer
Tom Coole Gloucester councillor
Fran Boait Labour parliamentary candidate for Gloucester
Ros Scott Hodgetts Stroud Labour Party secretary
Becca Kirkpatrick Universal Basic Income
Professor Danny Dorling author of Peak Inequality http://www.dannydorling.org/
David Drew Mp Shadow minister for rural affairs
Steve Gower Activist and CAB counsellor