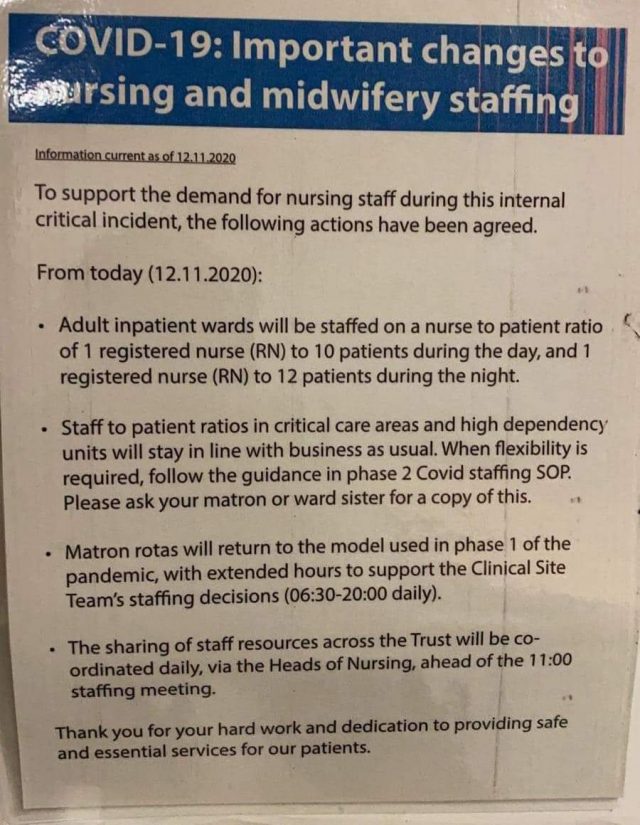 Who Would Want To Be A Nurse !
On average a registered nurse has up to 6 people in their care at any one time, 8 if you're in a small community hospital, though we have precious few community hospitals left.
Your pay has seen a real life decrease of 20% over the ten year term of this government. This year you will earn between 17 and 25k depending on how many years experience you have.
You will probably have to pay to park at work, average £53 per week.
You will be restricted from eating or drinking while on duty.
You will have to pay a £120 per year fee to the NMC (nursing & midwifery council) to remain a registered nurse.
During this crisis this particular hospital has raised the number of patients per nurse to 10 by day and 12 by night, not that night shift is any easier for most nurses.
But don't worry if you don't want to be a nurse, they're phasing out registered nurses for commercially cheaper alternatives: free volunteer labour, nursing associates and corporate apps anyway…
Please sign the petitions and get involved wherever you can..
https://speakout.38degrees.org.uk/campaigns/all-staff-pay-rise?utm_campaign=tSPTvhsKTv&utm_content&utm_medium=facebook&utm_source=share
https://unitetheunion.org/campaigns/nhs-workers-deserve-a-pay-rise-now/
https://www.rcn.org.uk/get-involved/campaign-with-us/fair-pay-for-nursing