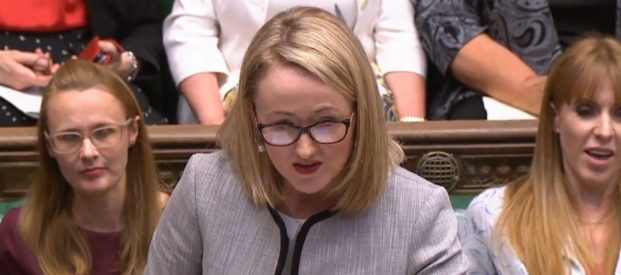 The Prime Minister and the Leader of the Opposition could not attend today's PMQs session due to D-Day commemorations in Portsmouth.
David Liddington stood in for Theresa May as usual but it was refreshing to see Rebecca Long-Bailey make her debut at the dispatch box today. She gave a strong and confident performance and took the government to task on their lack of actions towards climate change.
Rebecca's first question asked if the NHS would be on the table in a US trade deal. David Liddington waffled about how Rebecca shouldn't shine too brightly at the dispatch box in case she outshines "Dear Leader", which was patronising and unnecessary. He should have been more concerned that she would be outshining him a considerable amount. He then answered the question saying the PM has been very clear "the NHS is not and will not be up for sale".
The following five questions were in regard to climate change, the shadow business secretary, Rebecca Long-Bailey has been spearheading the promotion of Labour's green new deal and with climate change denier, Donald Trump's state visit this week it was a good time to debate whether our government, which recently declared a climate emergency are speaking to our climate denying ally and ensuring that our government are doing what they can to reduce our carbon footprint.
A notable question was when Ms. Long-Bailey asked if the government would ban fracking?
The response from Mr. Liddington was a list of governmental climate action soundbites and then an explanation of why fracking was necessary.
Rebecca was a joy to watch, every response by David Liddington was met with why his answer was either completely wrong or misleading. A notable response was after Mr. Liddington said that Labour would re-open coal mines and Ms. Long-Bailey responded that Labour does not condone the reopening of coal mines.
Oddly David Liddington answered all of his questions, whilst looking at his own benches which came across as rude and needy as if he didn't believe his own words and was looking for the support of his party to support him.
He ended the six questions in the same way as Theresa May by attempts to smear the opposition. This time accusing the Labour Party's policy of re-nationalisation as a huge cost that taxpayers will feel the brunt of. (He perhaps should have considered the huge inflation rates since services in the UK were privatised and realised that hard working people of the UK are already feeling the brunt of higher rates).