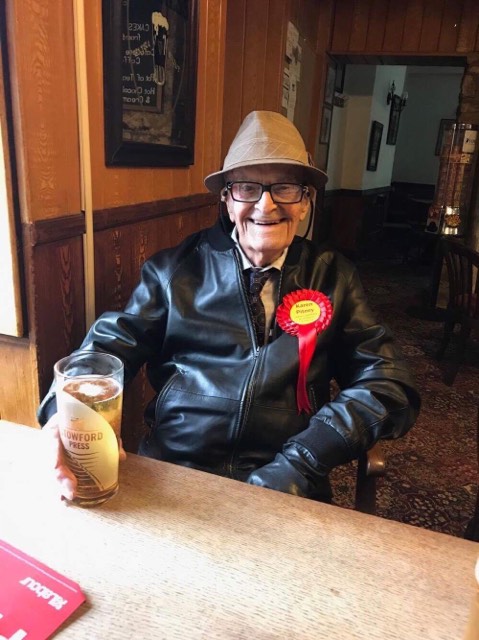 Harry Leslie Smith and his son John visited Stroud today. We all set off campaigning in Chalford, a small village outside Stroud in Gloucestershire that's having a by-election later this month.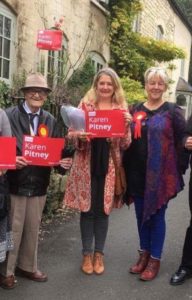 After 15 years of Tory dominance, the worms are turning, the Ward has doubled its Labour membership and Corbynites are running around the manor campaigning every day.
Harry got cuddled by the lady in the village shop and we had to stop for a pint in one of the last pubs left in the village. In the evening we had a Q&A in the old town hall in Stroud the ticket price went to support the local CLP and the book sales went towards funding Harry's upcoming world tour of refugee camps.
Harry says: My life is at eventide because I will be 95 in February 2018. For close to one hundred years, I have witnessed humanity at its best and worst. And right now in this present age, mankind is in one of its most difficult stages. It's why I need your help today so that I can complete the last great challenge of my existence before old age consumes me. I am one of the last few remaining voices left from a generation of men and women who built a better society for our children and grandchildren out of the horrors of the Second World War as well as the hunger of the Great Depression. Sadly, that world my generation helped build on a foundation of decency and fair play is being swept away by neoliberalism and the greed of the 1% which has brought discord around the globe.
Today, the western world stands at it's most dangerous juncture since the 1930s. So, before my time dwindles down to a few precious moments, I want to travel to as many refugee hot spots as possible in Europe, North America and possibly Australia to document this preventable tragedy that may lead us to another war as gruesome as the one I helped fight against Hitler over 70 years ago. I want to turn my research, my impressions, my outrage and passion into a book that can help shake people from their complacency. Moreover, while I am in the field, researching my new book on the refugee crisis; I also want to be podcasting, writing and tweeting from these camps of despair.
I know that my advanced age, activism over the last decade and use of social media can make this tour and this book an important rallying cry to help end the Refugee crisis or at least start a sincere dialogue to mitigate the suffering of vulnerable people, everywhere. My twitter feed has over 123k followers. Harry's Last Stand Twitter, so I know I can communicate and reach people.
Please purchase a copy of my book here
Please support me here via Gofundme