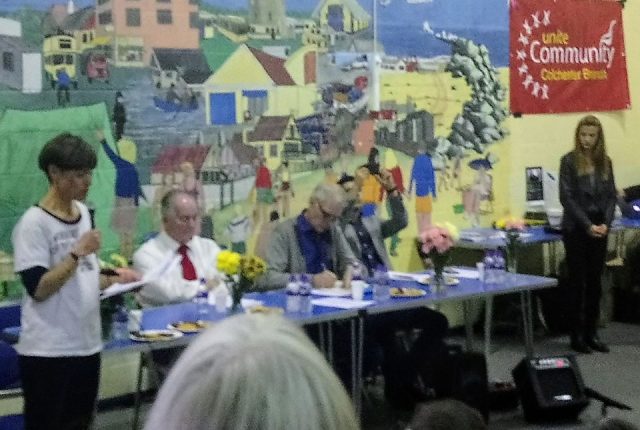 Philip Alston the independent special rapporteur on extreme poverty and human rights for the United Nations has spent the last seven days traveling across the UK to investigate the reasons for such extreme cases of poverty in the sixth richest country in the world.
On the 11th November 2018, Philip was in a small community hall in Jaywick, Essex, listening to people telling him their experiences of being failed by the current system and governmental policies. The event was well attended with people standing outside the door craning in to hear the moving accounts from people affected by the devastating poverty that has been forced upon them by Tory austerity policy in the last ten years.
These included people from all walks of life that had fallen on hard times by no fault of their own and finding that the 'safety net' that was once such a proud example of Britains civility could no longer be called such, as the holes in the net were far too easy to slip through.
Perhaps the most prominent example of someone falling through the cracks of this system could be seen when a speaker described how she had been a middle-class family and a proud independent journalist but how at the age of just thirty a tragedy caused by congenital birth defects caused her to become disabled, requiring 24hr care from her husband and family.
She found that she wasn't entitled to any benefits at first because she had been self-employed, so they quickly got in debt and risked losing their home. She then found that disabled people are discriminated against when looking for a private property as many landlords stated 'no DSS'. The council will not help until they become actually homeless and it can take 2-3yrs to be rehoused via the council housing list.
A recurring issue appeared to be the lack of early intervention support to prevent people spiraling into extreme poverty.
Another speaker spoke about how she had hit rock bottom because of her experiences of the benefits system and she had tried to end it. In fact, three of the eleven speakers reported that they had attempted suicide because of the struggle with debt and helplessness due to insufficient support by the benefits system.
A father spoke about how he felt he had failed his wife and children after he was made redundant and couldn't afford to feed them. That he wanted to throw himself in front of traffic because he felt useless.
A Mother spoke about her experiences fleeing domestic violence and then being in a position where her children were taken from her and put into care, they have been moved seven times and sexually molested twice.
Young people spoke about the lack of youth support and the lack of jobs in their area and how public transport is so lacking that it is impossible to travel to other areas for work.
Universal Credit was discussed and how people found fit for work were moved over to Universal Credit against their will, finding it difficult when they discovered their benefit amount was reduced under the new welfare reform.
The final speaker was an elderly chap that struggled to walk to the microphone but was the most powerful speaker. He regarded Austerity as a political choice calling it
"A medicine that enriches only those that dispense it."
He spoke passionately about British pensioners being the poorest in Europe. How the elderly find themselves in situations with no support and meager means often facing isolation and loneliness. He stated that 25,000 elderly people die each winter and that they are most reluctant to use food banks because of the shame, so hospital admissions of elderly patients with malnutrition are increasing.
He recalled after World War Two, at a time when we faced immense financial difficulty a Labour Government was voted in and together, we created the social reform that was so badly needed, he said: "We can repeat that social reform". Indeed, that if we do not, we are slipping back into the times before the Second World War when there were no safety nets, there was no free healthcare and extreme poverty was prevalent.
Philip Alston spoke after hearing the speakers and summarised the issues presented and how he looks forward to speaking to the Government to get a sense of what their response is, to the range of issues presented. He made the attendees of the meeting gasp in shock when he said
"Mike made one big mistake which was to say that he hoped that I could change this… and I can't"

"You can change it, its a question of the community sending a message to the government".
You can watch this segment of the meeting here.
The second part of the meeting allowed attendees to give statements or ask questions which ranged widely from welfare issues, housing concerns, class issues and even the term 'austerity'.
A man argued that the term 'austerity' should not be used by Philip in his report as it was manipulative language when what austerity really meant was super-exploitation. Calling it austerity decreased its impact and normalised it, making it become something 'acceptable'
Members of the public attending mentioned that austerity meant that the rich were getting richer, whilst everyone else was becoming more exploited. That they are taking advantage of the workforce as if they are expendable cattle, keeping wages low but profits high, this idea was reinforced by a number of speakers in different ways.
Philips response to the attendee's questions and statements can be found here.
Finally, when asked what we can do to avoid his report being swept under the carpet like the last UN report, Philip responded by saying
"I think the Government can sweep things under the carpet if people let them do that"
He suggests that people draw attention to the report to ensure that the recommendations are actually discussed.
"Civil society must insist they do discuss and focus on those issues."
If you like what we do, please consider donating to help us to keep doing it. https://www.gofundme.com/fund-independent-media