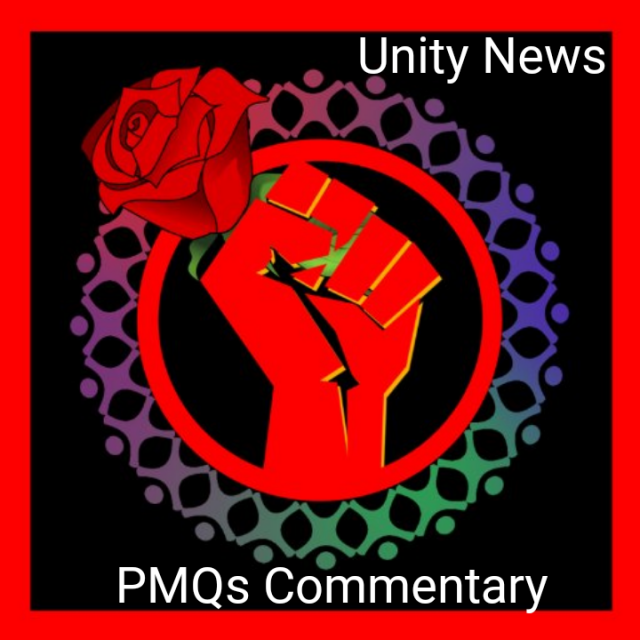 Corbyn Vs May Round Ten
Perhaps the shortest performance between the Prime Minister and the leader of the opposition today but it is often said that the sweetest things come in the smallest packages.
The session began by Theresa May announcing that 'This morning I had meetings with ministerial colleagues and others'.
The whole house erupted in laughter and even Jeremy Hunt was caught sniggering on the front bench. Twelve slow seconds passed before she could speak over the cackles of laughter.
This PM has become a laughing stock in her own parliament but the problem is the joke is on the people and it really isn't funny anymore. They have had over two years to negotiate a deal, a deal they said would be 'easy' and yet they have made a mockery of the whole shebang. Eighteen ministers have resigned since the referendum was called, this has become a zombie Government that would literally make those funding it, turn in their graves.
They attempted to distract from the Brexit negotiations by what seemed to be making use of Tory backbencher plants attempting to sway the discussion away from the topic of an EU deal.
Alex Burghart was one such plant, who voiced the first distraction comments;
"Yesterday saw the best wage growth figures in a decade and the best employment figures in my lifetime as the Prime Minister agree with me that this can only be delivered by the free market economics that unites this side of the house and not by the bankrupt socialism opposite"
So let us just examine these statements, one by one…
Best wage growth figures in a decade… This is because they froze wages since they took power in 2010. Chief UK economist at Pantheon Macroeconomics, Samuel Tombs states that the recent pick up in wage growth has been driven by NHS pay rises, where most workers received a pay rise of at least 3% in July. Roughly 1.5 million people are employed by the NHS making it the largest employer in the UK.
Further analysis by Andy Verity, BBC correspondent shows that despite how the figures look when everything else is taken into consideration such as inflation and cost of living we are still earning £20 less a week then we were ten years ago.
Best employment figures in my lifetime… Every week at least one Conservative announces the positive employment statistics. Yet what they fail to mention is that in work poverty is also at its highest and that 3.1million children are living in poverty despite growing up in working households. That is 1million more children than in 2010.
Not the bankrupt Government opposite… Well, Alex should be pointing his finger at his own side because Conservative borrowing in the last eight years has been higher than any Labour Government in history. What we should be asking is where has the money gone?
Okay, now that is settled, what else occurred in PMQs…
Jeremy Corbyn took May to the cleaners over the Brexit deal, Theresa had very little to say in retaliation as Corbyn pulled no punches.
He referred to the PMs deal as 'bundled negotiations, 'a failure in its own terms' and claimed the Prime Minister was intending to make Parliament vote on 'her botch deal or no deal'.
Theresa May could only accuse the leader of the opposition of having the intention to frustrate Brexit and betray the vote of the Britsh people.
Jeremy Corbyn hit back calling the last two years of negotiations 'utter shambles' and accused the PM of not managing to convince a lot of people behind her on her deal. He followed up on the topic of the eighteenth minister to resign last week, saying,
"the rail Minister resigned last week saying to present the nation with a choice between two deeply unattractive outcomes vassalage and chaos is a failure British statecraft on a scale unseen since the Suez Crisis and that from a Tory MP"
He went on to say that the twenty-seven European ambassadors were reported to state that the UK must align their rules but the EU will retain all the controls and asked: "is that a fair summary?"
Theresa replied with an almost identical soundbite from her opening at the beginning of the session but once again avoided answering the question directly.
"I have said all along throughout these negotiations what we are doing is negotiating a good deal for the United Kingdom we're negotiating a deal that delivers on the vote of the British people that takes back control of our money law and borders that ensures we leave the Common Fisheries Policy we leave the customs union we leave the Common Agricultural Policy but we protect we protect jobs we protect security and we protect the integrity of the United Kingdom"
Jeremy didn't let it go, he kept pressing the Prime Minister for information on her deal, stating that under her deal "we would spend years with less say over our laws or how our money is spent."
He continued switching the topic to the International Trade Secretary.
"Last week the decision to withdraw from any backstop agreement could not be contracted to somebody else can the Prime Minister confirm whether under her deal it will be the sovereign right of the UK Parliament to unilaterally withdraw from any backstop?"
Theresa May replied saying a backstop was required as an insurance policy but neither side wants to be in a backstop. She once again did not give a straight answer but only said: "any backstop has to be temporary".
Corbyn once again left without an answer by the Prime Minister said: "I think that non-answers confirmed that Parliament won't have that sovereign right."
Corbyn continued to quiz Theresa May on the Brexit negotiations and continued to ask important questions concerning trade deals. The PM had weak and wobbly answers, which gave no assurances that anything was set in place for when Britain leaves the EU and ended her answer by attacking the Labour Party for their view on trade deals, which really was puzzling.
Corbyn continued by mocking the Brexit Secretary, Dominic Raab and quoting his own words…
"I hadn't previously understood the extent of this but we are particularly reliant on the Dover to Calais crossing."
Mr. Corbyn asked, "When did the Prime Minister become aware of this absolutely shocking revelation about Britain's trade routes?"
Theresa May went on the defense again and tried to belittle the leader of the opposition because he reads his questions and feigned knowing exactly what they are talking about on trade policy. Despite the proof of this infantile quote that came from a front bench minister.
Jeremy Corbyn continued by saying "Labour respects the results of the referendum what we don't respect is a shambolic mess" Applause erupted in the house as Mr. Corbyn continued laying into the Conservative Government Brexit negotiations, stating that this is a mess they created that they can't get themselves out of.
Theresa May failed to answer any of Jeremy's questions resorting to her overused smears on Labour economic policies and new Brexit soundbites promoting her negotiations.
Further information regarding this weeks PMQs can be found here
You can watch PMQs here
If you like what we do, please consider donating to help us to keep doing it. https://www.gofundme.com/fund-independent-media