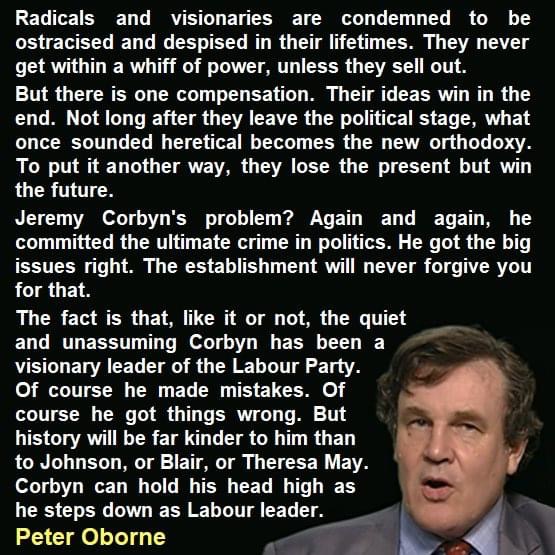 Today, though many may not recognise it, is a very sad day for our Nation.
The last day of Jeremy Corbyn's leadership of the UK Labour Party.
Corbyn's often-derided policies are now being implemented by the Government to combat the current crisis.
All of them are – suddenly – 'doable', albeit that the detail of their implementation is such that the longterm benefits will primarily – and intentionally – go to Tory donors, bankers & corporations rather than to the people.
Maybe working people (by which I mean anybody whose income depends largely on the work that they do – or have done in the case of pensioners – and those not able to work through ill-health or disability) will finally wake up to the incompetence of the current government – and, worse, their disinterest in adequately protecting 'the many', including our heroic medics and carers. I hope so. However, that change of perception will probably come too late for the realisation of what might have been quite extraordinary, life-enhancing changes for the majority of UK citizens.
Corbyn has changed the narrative – but this was never about Corbyn the man, as he kept reiterating himself. It was about reducing inequality, about compassion, about respect for all, whatever their life-circumstances.
Corbyn's supporters like me were always energised by those shared values. We are far from being tribalist and many of us will re-evaluate the time & support that we give to the Labour Party should the values that drive us not be reflected by the policies of the in-coming leader, whomever that turns out to be.
That's not because we're cultists, or because we don't like the new leader. It's about how our values can best be lived. It's about using our energy for the greatest benefit of those who need our support.
For the last 4 years, I have had no doubt that trying to get a Corbyn-led government in power was the absolutely best use of my time, energy and abilities. When our new leader announces her or his team and sets out his or her plans I will decide – like many thousands of others – whether that is still the case.
R Scott-Hodgetts