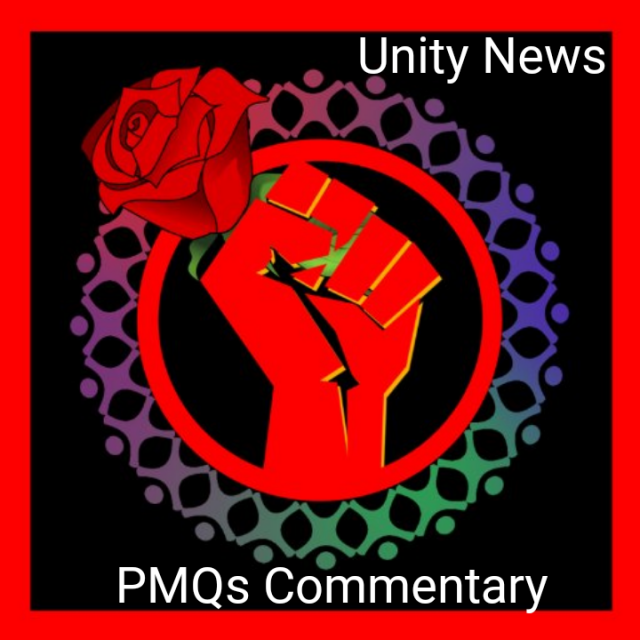 Corbyn Vs May Round Seven
A much calmer start to PMQs this week as Jeremy Corbyn and Theresa May went head to head once again on the topic of leaving the European Union.
The mood was perhaps more sombre and respectful than usual as Jeremy Corbyn paid tribute to the passing of Patricia Hollis, "a tireless campaigner for social justice" and a Labour member of the House of Lord. Theresa May also voiced her sadness at the passing of Baroness Hollis.
The questioning kicked off as Jeremy Corbyn asked if the Chequers deal was now dead?
Theresa May gave a brisk reply, "the answer is no".
Jeremy Corbyn responded to this with perhaps the most amusing comeback in the House of Commons today.
"WELL MR. SPEAKER, THAT'S MOST INTERESTING BECAUSE THE INTERNATIONAL DEVELOPMENT SECRETARY AND THE WORK AND PENSIONS SECRETARY HAVE BOTH REFUSED TO SAY THEY BACK THE CHEQUERS PLAN, MAYBE SHE COULD SHARE A PIZZA WITH THEM AND SEE IF THEY CAN SORT IT OUT?"
The house erupted in cheers and laughter as many tried to imagine the PM eating a pizza with two of her front bench ministers.
Jeremy came in for his second question regarding the £39 billion divorce bill, to which Theresa May replied, the Government would honour all legal obligations with the EU.
The leader of the opposition pressed Theresa May on her plans for Brexit and the Commons went berserk as Conservative MPs made boorish and aggressive displays pointing at and heckling the opposition bench.
One Tory crouched in the aisle beside the PM's bench like Gollum from Lord of the Rings pointing his finger at Jeremy Corbyn and we are almost certain he was shouting "Nasty Hobbitses" at the opposition bench.
This behaviour only led to them looking once again completely out of touch with what is going on, burying their heads in the sands, whilst they recklessly play with the lives of the people, pretending that they know what they are doing. They are running scared from their continuous, documented failures and all they have left to do is boo, heckle and hiss as their inadequacies are pointed out to them.
Towards the end of Jeremy's questions, the commons regained its rowdy, unprofessional character as John Bercow fought against the disrespectful clamour saying "We don't need heckling from either side, it's not in keeping with good order and demonstrations of respect"
Jeremy Corbyn also pointed out the member, we shall refer to as 'Smeagol', saying "Mr. Speaker, it's very strange, every week the way a member hides behind the gallery there, in order to shout and hurl abuse"
As Jeremy Corbyn spoke about the automotive industries worries about Brexit advising that they require a customs union, supported by trade unions and businesses to protect jobs. The Prime Minister responded with sound bites regarding frictionless trade.
'What is this frictionless trade and when will it be explained?'
Once again Jeremy Corbyn won PMQs. He gave example after example of how the Government is failing their Brexit planning and then summarised their own failings. He ended, saying,
"MR. SPEAKER THE CONSERVATIVE PARTY HAVE SPENT TWO YEARS ARGUING WITH ITSELF INSTEAD OF NEGOTIATING A DEAL IN THE PUBLIC INTEREST AND NOW JUST DAYS BEFORE THE DEADLINE, THEY ARE STILL BICKERING AMONGST THEMSELVES. THE PRIME MINISTER AND HER GOVERNMENT ARE TOO WEAK AND TOO DIVIDED TO PROTECT PEOPLES JOBS, OR OUR ECONOMY OR ENSURE THERE IS NO HARD BORDER IN NORTHERN IRELAND. SO THE PM HAS A CHOICE SHE CAN CONTINUE TO PUT THE TORY PARTY INTERESTS FIRST OR SHE COULD LISTEN TO UNIONS, BUSINESSES AND PUT THE PEOPLE OF BRITAIN FIRST, WHICH IS IT TO BE?"
Cheers erupted in the commons…
Theresa responded with more attacks, the same sound bites, spin and lies that we hear from her and her Tory colleagues over and over again. Perhaps they think, if they keep saying something enough people will believe it?
Peter Stefanovich unraveled all of her spin and lies in record time, uploading one of his famous videos, which can be found below.
At PMQS today Theresa May boasted her Government had ended austerity and created record low unemployment! This is the TRUTH behind her lies & spin👇!! pic.twitter.com/19L8QTqGGg

— Peter Stefanovic (@PeterStefanovi2) October 17, 2018
For further details regarding PMQs please find them here
To watch PMQs please find a copy here