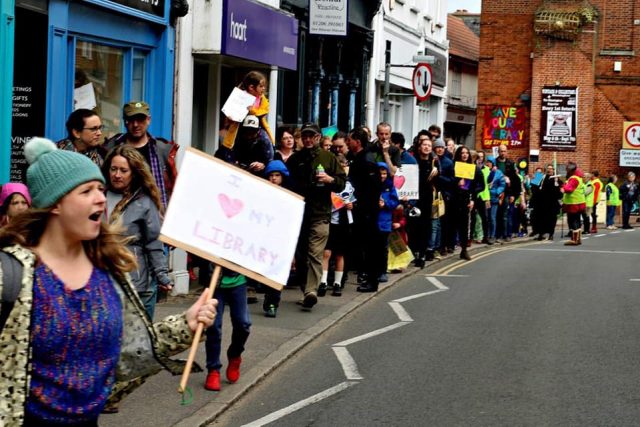 Children came out in force for a protest march on Saturday 27th April in the smallest town in England, Manningtree, Essex.
Children's protest marches have been in the news of late but this protest was not a climate strike. It was a demonstration to convey the anger and distress these children feel about the threat of closure to their local library.
The event began at 1pm with a placard making workshop organised by Emma Fisher, which was so popular that they run out of all materials available. Placards were imaginative and colourful but the message was clear, do not close our libraries. Glitter tattoos were provided free of charge courtesy of local business Emmas Fanciful Faces and children filled the branches of a library tree with heartfelt messages.
At 2pm the march began through the small town of Manningtree, children and their parents swarmed through the small town. shouting, singing and playing instruments and filling the streets with noise. Shop keepers came to their doors to offer support to the marchers and wonderful volunteer stewards helped to keep the children safe crossing the roads and maneuvering around the tiny streets of Manningtree town centre.
The march came to an end as children marched through the centre of the library, singing loudly no more library cuts, through the back exit and back to the Methodist Church hall for well-deserved treats provided by local bakery business De'aths and refreshments provided by the local community in support of the campaign to save Manningtree library.
As the day came to an end the children gathered on a stage in the hall and played their instruments singing "No more library cuts" The parents watched the impromptu performance of their children with pride.
I'm so proud of all our children here in Manningtree. #NoMoreLibraryCuts pic.twitter.com/Yr8TjCpoEC

— Lucy Wood (@LuDoRight) April 27, 2019
An amazing day organised by a small local community led by local Labour candidate and young Mum, Holly Turner. Proving that if you believe in something you can make a difference.