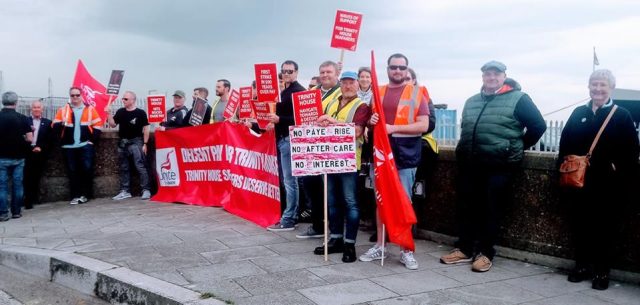 On the 3rd April 2019 Seafarers from Trinity House Lighthouse Authority took to the picket line for the first time in over five-hundred years.
After nine years of inadequate pay increases and discouraging discussions with management the Seafarers took a ballot and a 90% majority voted to take action.
The Seafarers have an important job keeping British waters safe and currently maintain 11,000 aids to navigation along with urgent work marking sites of new wrecks and other hazards.
A spokesman for Trinity House said, "All our staff are highly valued, but Trinity House salaries are subject to public sector pay policy, and all staff have been awarded the maximum possible within the Civil Service rules."
However, Unite's Regional Officer, Miles Hubbard told us "Three years ago Trinity House promised a 6% Pay rise". This would have made the Unite Seafaring member's pay more comparable with other maritime worker's pay.
Today a second demonstration took place in London and Harwich, Essex due to a remaining impasse on any meaningful way forward. Thirty-Five members from Harwich are taking part in action to see improvements to their pay, they were also supported today by local Harwich Councillors Ivan Henderson and Charlie Powell along with the president of Norwich & District Council and Chair of Norfolk Unite Community Geraldine Murray, She came sharing a message of solidarity.
The demonstration had a buoyant mood, with public support from locals beeping their horns as they drove past, the Unite members were also joined by a 12ft rat called Scabby, which certainly attracted attention.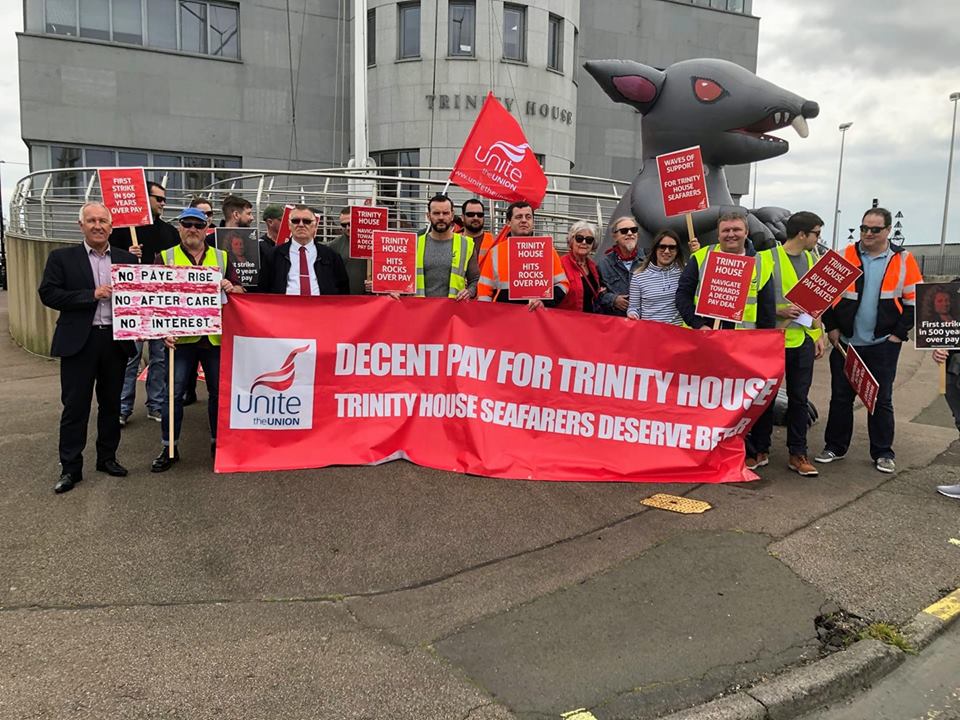 A further meeting with Trinity House will go ahead on the 10th May and it is hoped that a more positive outcome will be achieved, if not it is likely we will see the Seafaring Unite members having a ballot for further demonstration.
Trinity House Seafarers are another example of the Governments austerity policies affecting people, including the hard-working people providing vital services. Ex-Conservative PM, David Cameron once said: "Britain was all in it together". Yet, during the same time frame that these workers and other civil service workers have either had between 0-1.5% pay rises, MP's have had close to a 21% pay rise.