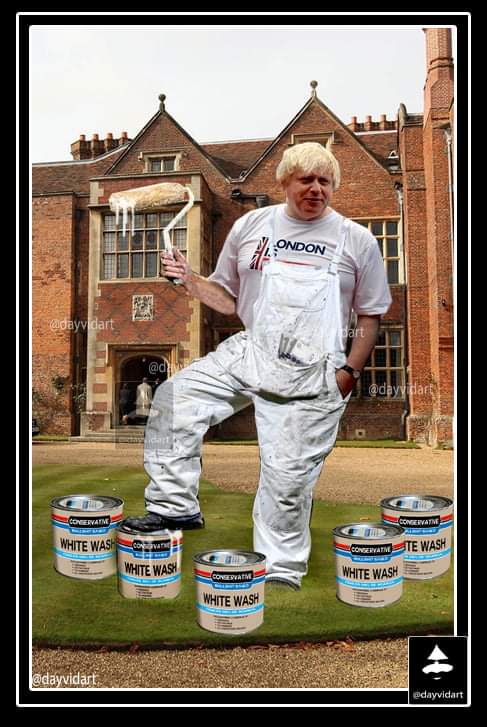 Five years ago the scandal of The Panama Papers was the main story on TV, Radio and in the Press, for a week it was the main story and then suddenly it died a death and the Tories and the so called elite / establishment breathed a sigh of relief. They had been discovered up to their necks in systematic fraudulent non payment/avoidance/evasion of their fair share of taxes squirrelled away in off shore tax havens. The response at the time from those who had been caught out was; that it was all perfectly legal. Well guess who made the rules?
Yes that's it! Those who stood to benefit from the existence of the off shore tax havens, Quelle Surprise!      Panama Papers
Cameron was down and the media seemed to be acting independently with what appeared to be investigative journalism, then almost as if someone had flicked a switch the foot was taken away from his throat and he got back to his feet as though it was business as usual.
If the Tories are not stopped from implementing their ideological attack on society there will be nothing left in this country except misery, with a corrupt ruling elite with no restraints who will be allowed free rein to continue with their vicious programme of austerity (for everyone but them) capitalism is failing everybody in the country apart from the uber rich who are protected from such privations as most of their wealth is so well hidden from the H.M.R.C. it might as well be on the dark side of the moon.
Fast forward five years and once again the Tory Party are embroiled in a financial scandal with the current Prime Minister; Boris Johnson up to his corrupt neck in the 'Cash for Curtains' scandal. Apart from the obscene cost of the renovations to his flat in Downing Street and the apparent lack of taste of his partner Carrie Symonds, the question is who funded this abomination and attack on the senses of any right minded human being.
Lord Brownlow who stumped up the £58k to cover the costs of Carrie Symonds appalling taste in wallpaper at £840 per roll has an estimated wealth of £271 million and has donated over £3 million to the Tory Party in recent years. He donated over £100,000 to Theresa May's constituency party between 2016 and 2020, he was rewarded with a peerage by May in her resignation honours list in 2019.
This is not the first time that Johnson has been embroiled in financial controversy, in the winter of 2019 – 2020 he was the beneficiary of a holiday in St Vincent and the Grenadines estimated to have been worth £15,000 which was "facilitated" by Carphone Warehouse co-founder David Ross. Downing Street officials stated that everything was above board and no rules had been broken in response to opposition MP's who had questioned the financial arrangement.
When Johnson was Foreign Secretary he complained that he struggled to make ends meet on his more than generous salary of £141,505 due to his paternal responsibilities.
He is twice divorced with four children from his two marriages and now has a one year old son with his current partner Carrie Symonds.
Johnson also has a track record of regular late declarations of financial interests on at least ten occasions amounting to more than £52,000 worth of income, his attitude to the truth in financial affairs is cavalier to say the least.
A year after he was forced to apologise to MP's in 2018 for his late declarations there was a further instance of his financial impropriety when he failed to declare a 20% stake in a property in Somerset, which along with a 50% share of a property in London, generates a rental income of at least £10,000 a year.
He also benefits from rent free accommodation in Downing Street as well as the country house residence of the Prime Minister, 'Chequers', whilst receiving the princely salary of £157,372 as Prime Minister and MP for Uxbridge and South Ruislip. In addition to his salary he is entitled to an allowance of up to £30,000 a year to refurbish his flat in Downing Street, yet he constantly pleads poverty and begs for loans from his acquaintances in the Tory Party to fund his extravagant lavish lifestyle. He is responsible for the tax on any bills for his residences such as heating and lighting but that is capped at 10% of his ministerial salary at no more than £8,000 per year.    https://www.bbc.co.uk/news/uk-politics-56928610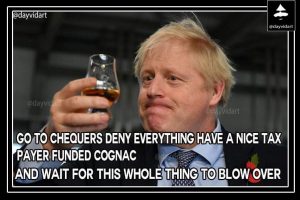 So does the Prime Minister have a conflict of interest? he is permitted to spend up to £30,000 of public money per year on renovation of his accommodation, the bill for the latest designer redecoration is estimated to be in the region of £200,000 which is why the Prime Minister had to go cap in hand for a loan of £58,000 to cover the costs of Carrie Symonds taste.      https://www.bbc.co.uk/news/uk-politics-56893165
The loan was originally believed to have been provided by the Tory Party but Government sources did not confirm this, but it is now confirmed that Lord Brownlow was the source of the financial assistance for the decorative calamity at the Downing Street flat.
There are now separate investigations into Mr Johnson's financial conduct and whether his arrangement abided by the ministerial code which sets out the expected standards of behaviour whilst in public office. It is alleged by Dominic Cummings, the former chief adviser to the Prime Minister, that Johnson once planned for Tory donors to pay for the renovations at his flat in Downing Street but that the donations would be kept secret.        https://www.bbc.co.uk/news/uk-politics-56888304
Johnson is now subject to an investigation by the Electoral Commission, the Governments top civil servant Simon Case and his newly appointed adviser Lord Geldt.           https://www.bbc.co.uk/news/uk-politics-56962642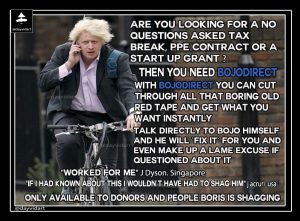 His association with Jennifer Arcuri is further evidence of financial misdemeanours, she was the recipient of £126,000 of public money whilst Johnson was the Mayor of London and also accompanied him on three high-level foreign trade trips whilst he was still married to his ex-wife Marina Wheeler.            https://www.mirror.co.uk/news/politics/sleaze-files-mounting-claims-against-23993726
Not only is Johnson a financial embarrassment to the Tory Party, he is a proven serial adulterer and liar, he was sacked from the Tory front bench by Michael Howard after lying about an affair with journalist Petronell Wyatt, which Johnson attempted to deny until it was confirmed by her mother. The issue at hand is that while Johnson may be able to lie to the public over his extra marital affairs, once they morph into financial irregularities then the electorate are right to question his suitability for high office, when his lack of any pretence at honesty, reliability and moral integrity are shown to be nothing but a front to cover up for his total and arrogant disdain for anyone who would cast doubt on his political ambitions and whether he is a fit and proper person to hold the exalted position of Prime Minister.          https://www.mirror.co.uk/news/politics/sleaze-files-mounting-claims-against-23993726
The country should be focusing it's attention on challenging the so called establishment through the media, mainstream and social. There is a schism being created in society which is widening year by year and it is time for change. Johnson and his supporters in the Tory Party arrogantly think they have some divine right to do as they wish and act with impunity as though the laws of the land do not apply to them. It is time that such arrogance was eradicated from our society and those who would wish to continue in such a manner be expelled from public office.
Pics by Dayvid Art