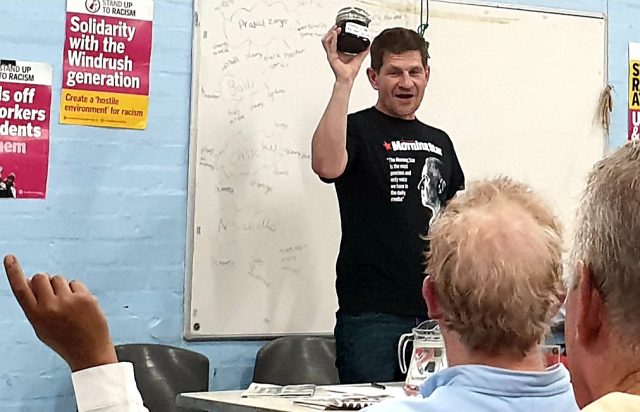 On the 1st August in a packed out community centre in Enfield an event called Enfield stands with Corbyn took place, unfortunately, the Leader of the Labour party couldn't be there but a pot of his homemade jam was.
Previously, the most expensive jam known to man was a hand seeded red currant jam produced in France costing £32.98.
Once again, Jeremy Corbyn has shown the world that he can beat any record and a jar of his famous Corbyn jam sold at the event for a whopping £45!
The new owner was very happy with the purchase and held it aloft like a trophy whilst the rest of the room applauded and hoped that they would be invited round for cream teas so they could taste the exquisite jam too.
Approx two hundred people crammed into the small community centre, some having to stand because there were no more chairs, so many wanted to show their support for the leader of the party.
Peoples Assembly and Labour4MorningStar helped organise and Enfield Stand Up To Racism, Enfield Momentum, Andrew Murray were amongst many other speakers who spoke passionately at the event.