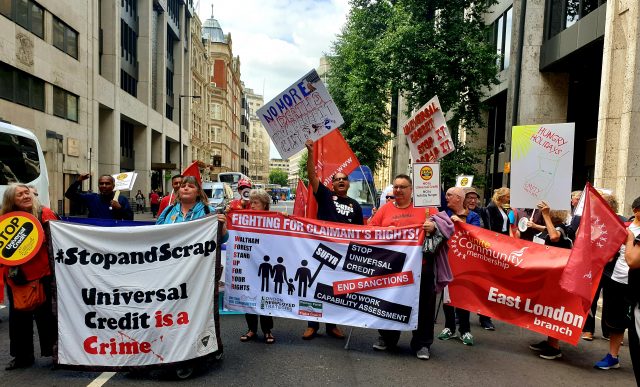 Unite Community branches across the UK took to the streets on the 1st August in a day of action to demand on mass to stop Universal Credit.
The demonstrations took many forms in sixty-three different locations across the UK. Clacton Unite Community Branch held a demonstration outside Clacton Job Centre, speaking to people about their experience of Universal Credit and making their voices heard to passers-by about the destruction that Universal Credit is causing.  Clacton Unite Community member Rob Harper said, "All over the UK today people are calling for the end of Universal Credit and the adverse poverty it causes."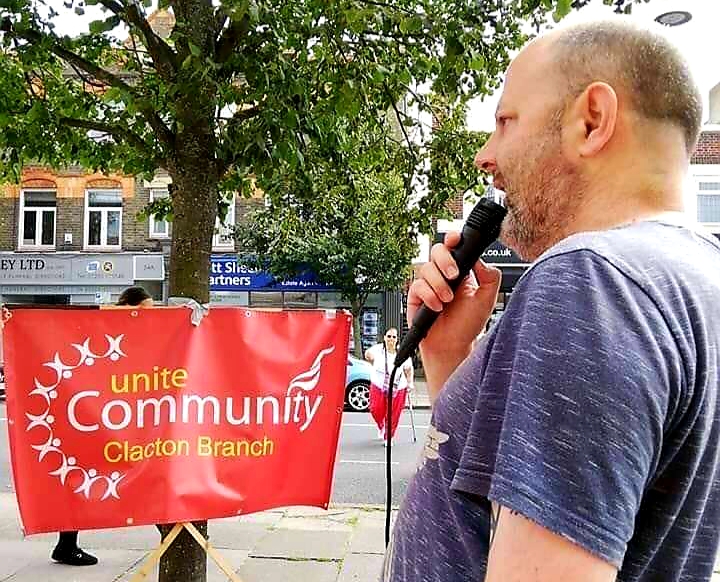 In Bristol Unite Community members set up a campaign stall with information about holiday hunger. They collected food donations from members of the public to give to a local group that is feeding hungry children during the holidays. Bristol Unite Community member, Zarria Phillips said "We did a survey, 72% of all parents were finding it difficult in the holidays to feed their kids."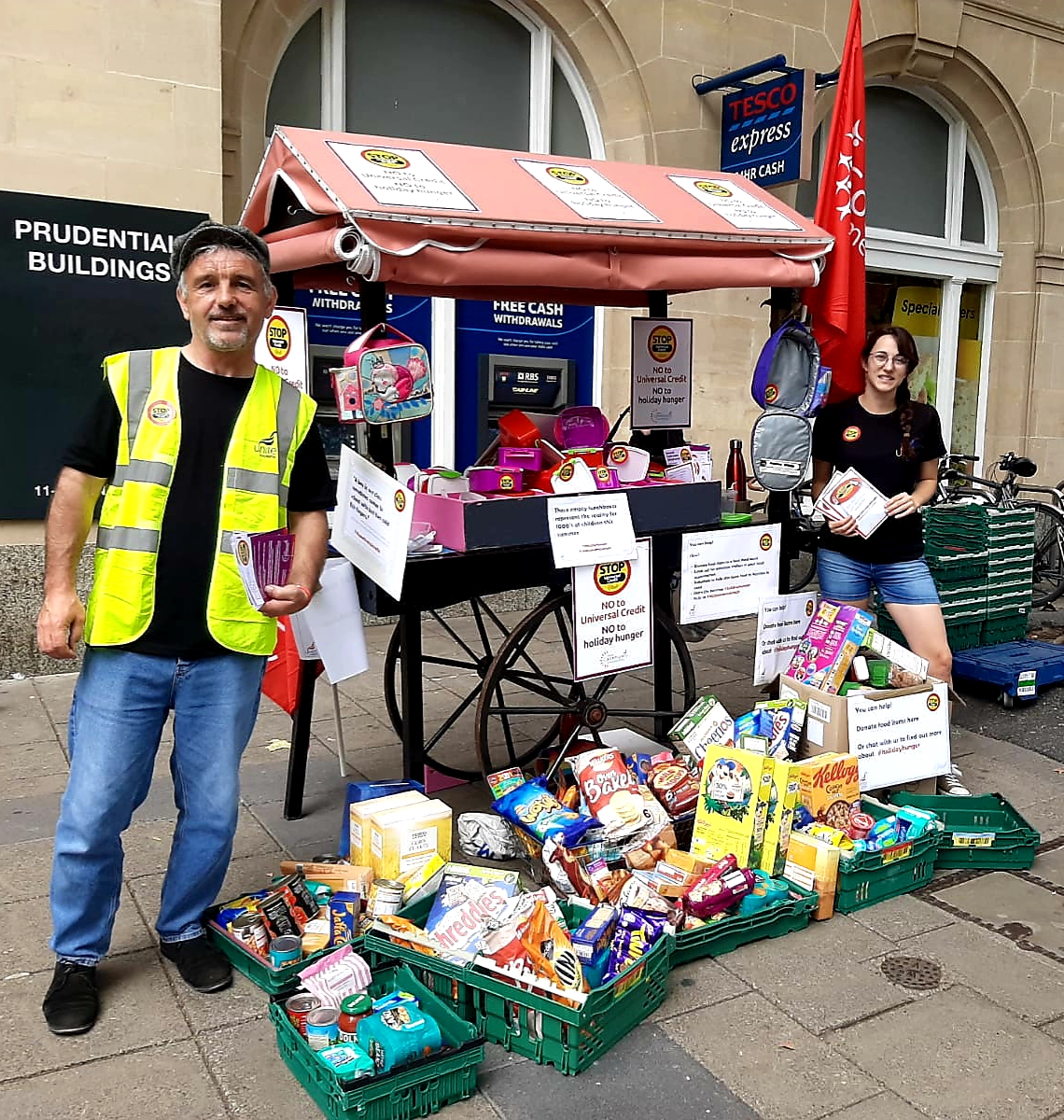 Unite West Midlands set up a stall and spoke on a PA system about the realities of Universal Credit, Leicester, Wales, Scotland, Southampton, Liverpool and Manchester, all came out and made their voices heard along with many other branches.
In London community groups made lunches for children, did face painting, glitter tattoos and activities for children.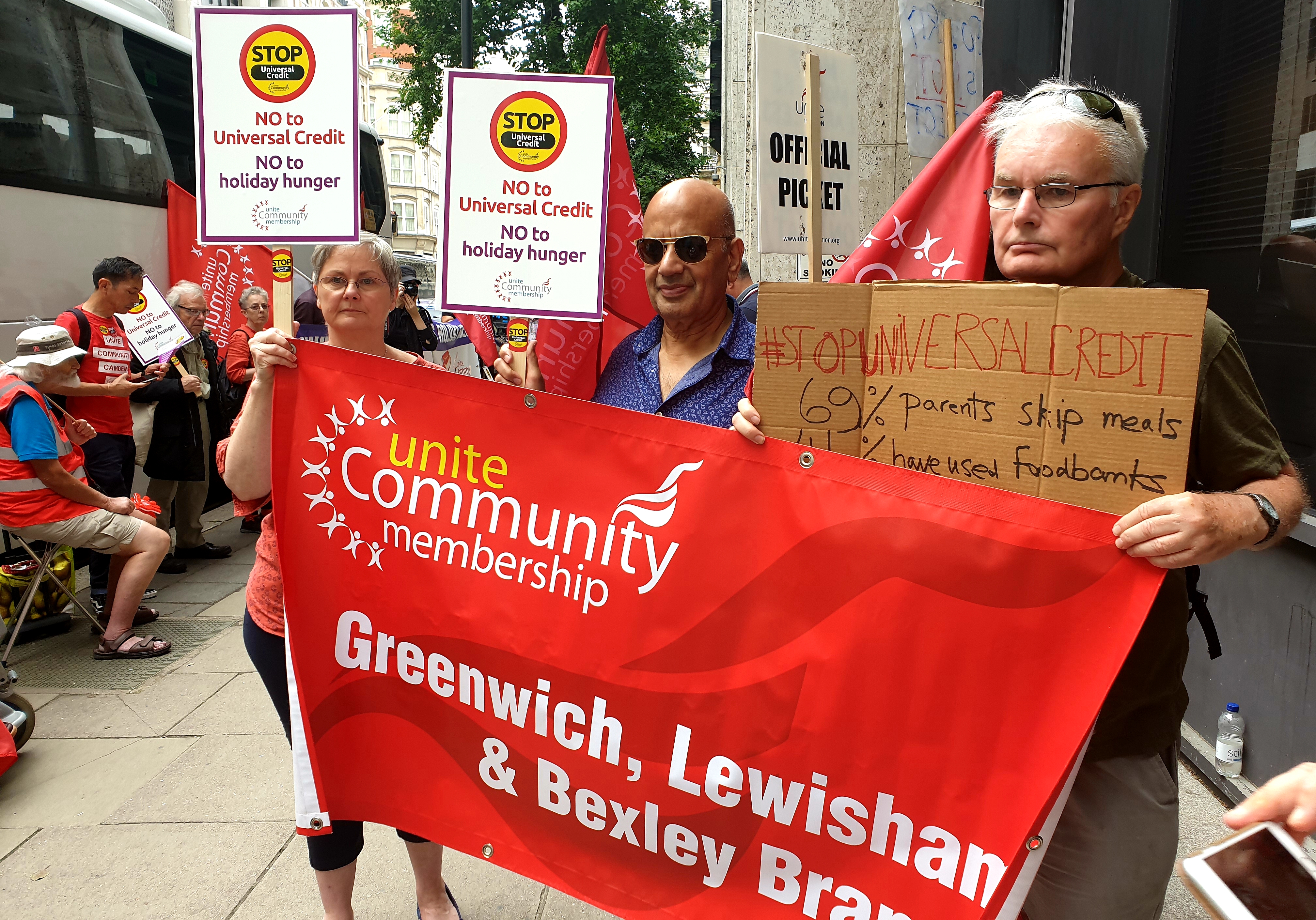 In Westminster, protesters stormed the street outside Caxton House, the Department for Work and Pensions (DWP) headquarters. Protesters demanded that Amber Rudd listen to them and stop and scrap Universal Credit.
The Unite Community protesters shut down the road outside the DWP HQ for just under an hour whilst they chanted passionate protest songs.
"Whose Kids, Our Kids."

"Whose Streets, Our Streets."

"What do we want? To stop Universal Credit. When do we want it? Now!"

"Tories, Tories, Tories. Out, out, out!"
Unite Community protesters marched around the corner to the Tory HQ and made sure their voices were heard on the megaphone as they described the harsh reality of the Conservatives welfare reform.
Gill Thompson spoke emotionally about her brother, David Clapson who died due to the cruelty of benefit sanctions.
Unite the Union completed a survey, which showed that 70% of parents are skipping meals and 41% are relying on food banks to feed their children. 80% of parents told Unite they couldn't afford birthdays or Christmas and the same percentage are relying on help from friends and family.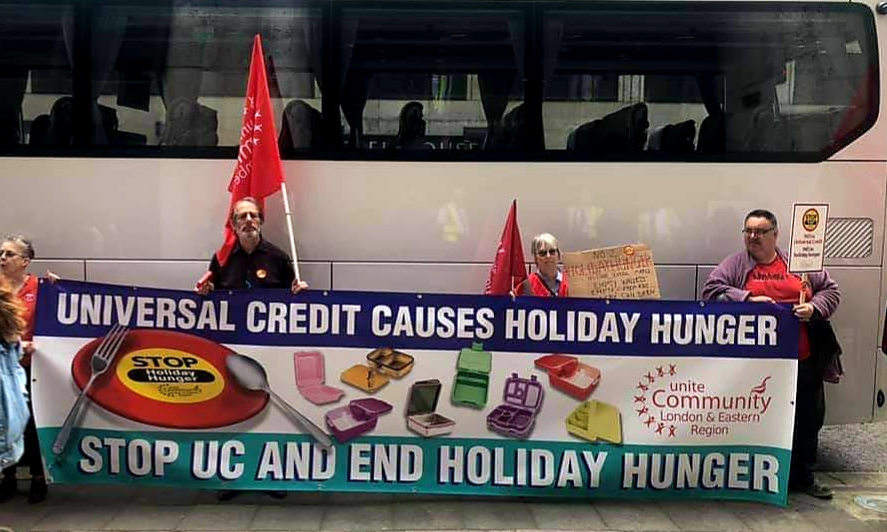 London and Eastern Unite Community, Regional Co-ordinator, spoke at the protest and said, "In the fifth richest country in the world, children are going hungry, this is a disgrace."
Labour Councillor for Kensal Green, Jumbo Chan spoke outside Caxton House during the protest. In a tweet, he wrote, "Universal Credit reveals plainly the class-based nature of society. One where billions of pounds can be showered on bankers to rescue them, but the poorest are attacked ever more fiercely."
Unite is calling for Universal Credit to be scrapped as it's not fit for purpose. "We want a social security system that treats people with humanity and is fair."
Unite also stated "The Government claim UC is getting people back into work – There is no evidence that this is true. In fact, the opposite is true, academic research has shown that Universal Credit and the cruel sanctions regime prevents people from finding and keeping jobs that will lift them out of poverty. If you are hungry and can't afford to feed your children or heat your home, it is harder to apply for jobs and be successful at interviews."
After the event, Vic Paulino said: "I am humbled as always that the people and the Unite Community branches I represent and work for came out in massive numbers today. I am privileged to be their co-ordinator".
You can find out more about Unite's Universal Credit campaign here