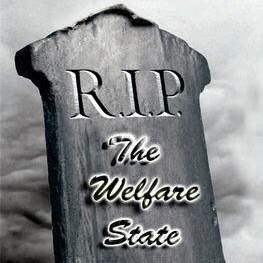 Since 2010 the death toll of disabled ESA Benefit claimants that were declared fit for work and died within six weeks of their benefits being stopped has been reported on Calum's list.
Although condemning evidence that proves these facts relies on the openness of government agencies to publish statistics. The DWP published a document in August 2015 titled, 'Mortality statistics: Employment and Support Allowance (ESA), Incapacity Benefit (IB) or Severe Disablement Allowance (SDA)'. It documents information on those that have died after claiming ESA, IB, or SDA. Though it records every death indiscriminately so the statistics are not reliable figures to ascertain how many people died after being approved as fit for work or died because of benefit changes/termination or died naturally.
What it does determine is that between the 1st May 2010 to the 28 February 2013, 2,017,070 individuals had their work capability assessment results issued. Of those individuals, 40,680 died within a year of their assessment decision. Though of this number there is no way of differentiating between who died whilst still being accepted as a disability claimant or who died after being declared fit for work, it is safe to say that the number would be in the thousands but it is difficult to pin down and prove.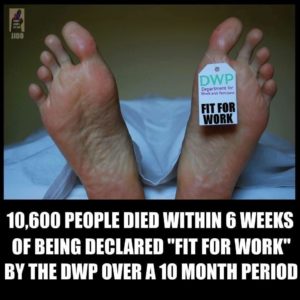 Calum's list is a website listing those that have either died or committed suicide due to the decisions of the DWP. It is the human element of all the statistics.
Whilst there are only 60 recorded victims on this site that is 60 more than there should be.
A read through the list is heart breaking, father to a 9-year-old son stabbed himself in the heart twice after learning his housing benefit would be cut by just £30 a month and would mean the loss of their family home.
A 57-year-old lady found dead in a drain from drowning, with multiple cuts on her wrists the day before her WCA meeting. A nurse that committed suicide after she was declared fit for work.
The list is harrowing and it is only a fraction of the real human cost of the government's intentions to make the disabled feel like they are worthless parasites, draining the 'benefits' system.
In the Conservative 2017 Election manifesto their disability policy was to 'encourage' one million more disabled people into work, their drive to make people feel worthless unless they are contributing by working even when that person's ability to work is limited is alarming and hearkens back to another individual who also felt that the disabled were a burden on society.
In the 1930s Germany experienced social and economic problems. Nazi propaganda of the time portrayed disabled people as useless and their lives unworthy of living.
The population was duped by propaganda to believe that society shouldn't be paying the high cost of supporting disabled people.
In 1933 Hitler came to power and that same year a widespread compulsory sterilisation program took place, followed by a secret T4 euthanasia program.
This is an extreme example of similarities between the Conservatives and Nazi Germany but it is one that may leave a bitter taste in the mouths of disabled people who are currently experiencing the stripping away of their rights and support over the last seven years of Conservative governance.
Surely the Conservatives would never get away with such brazen disregard for human rights as they did in Nazi Germany?.
Yet, the United Nations reported that the Conservative government is systematically violating the rights of people with disabilities.
Tory MP Damian Green threw his dummy out of the pram, proclaiming that the report was "Patronising and offensive" but for many disabled people, it gives credibility to the social and economic cuts, which they have had to endure since 2010.
Calum's list highlights the human cost of welfare reform and urges anyone with information about further deaths which have been caused by government cuts or policy on welfare to contact them as they currently collate evidence to take the DWP to court.
If you know someone that has been affected by this please look at the Calum's list website and consider adding to the growing list. Calum's list
For further information relating to the changes regarding ESA, PIP and DLA, look here Benefits and Work News