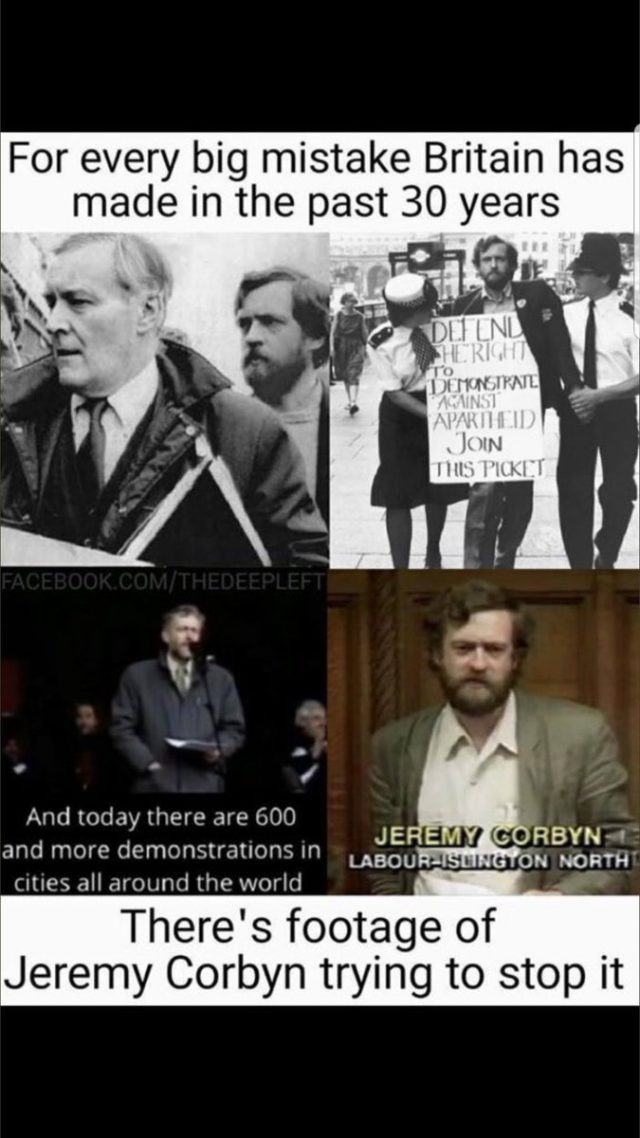 It is time to put to bed the fallacy that Labour should be campaigning/agitating for A People's Vote prior to a General Election.
Politically it should be a non-starter for ANYONE committed to a socialist Labour government.
Why? Because a People's Vote first policy can only lead in two possibilities both of which end in the same result.
1. The electorate changes their minds and votes to Remain in the EU. Superficially a fantastic result, but what it really means is Tory Party entrenched in power until 2022. Causing three more years of misery for the many of us without wealth or good health. Now able to drive forward the largest redistribution of wealth this country has ever seen, without the baggage of dealing with Brexit. The Tories would enable and aid even more attacks on Jeremy Corbyn and the Labour movement from a fearful MSM. (see our article on the MSM and the unelectability of Corbyn here…
2. The electorate enforces their decision of 2016  and insists on Brexit. Emboldened by this and with hard-right wingers led by Rees-Mogg and Johnson driving forward the rheotoric, May will force us, like the donkey Generals of WW1, over the top, to a No-Deal Brexit. As with the possibility laid out above, the Tories are entrenched in power for 3 more years with the exact same result for those of us, not in the 1%.
The rabble rousers in chief for this fallacy are Anna Soubry, a Tory with a slender majority of only 829, who is naturally fearful of a General Election removing her from a job, and Chukka Umunna, not exactly a staunch supporter of the Labour movement towards socialist principles. One has to question their reasoning for supporting this fallacy, especially Mr. Umunna who clearly knows that it is against Labour policy as decided by conference only a few months ago.
The reasonable question is why does Mr. Umunna want to drive forward this fallacy as the only way to go? is it best for Britain? Clearly not if you are committed to a Britain #ForTheMany as it just entrenches a Tory Party committed to gerrymandering the economy for the few. Is it best for the Labour Party and wider movement for change? Clearly not as laid out above, but it does allow the still bitter hard right to claim that somehow Corbyn and the Labour leadership are failing to stop Brexit despite never being in power (partly due to the right's maneuvering).
What are the benefits of a General Election first policy?
Simply, it gives Labour a chance to gain power. Labour's policy on Brexit is, and has been for some time if only the MSM would care to share it, clear. When in power labour would attempt to negotiate a deal that delivers for Britain, protecting jobs, worker's rights and the environment.
That is then the opportunity for a People's Vote, and what Mr. Umunna SHOULD be campaigning for. A vote on the deal as negotiated, a deal explained with the benefits and problems laid before the electorate, and WITH an option for us to say, given what we now know about Brexit, about this deal, about No-Deal Brexit, about the actual benefits of EU membership, we have changed our minds and want to Remain.
We end up with a People's Vote with an option to Remain, with an option to vote for a real deal, that protects our jobs, our people, our rights, but with the very real benefit of the Tories out of power and ready to tear themselves apart.
Why would anyone committed to a socialist Labour governing #ForTheMany be campaigning for anything else?
So remember when you see Mr. Umunna et al on your TV's and in your newsfeeds ask yourself, what is their end-game? Why does a Labour MP not want a Labour government? This fallacy is not about stopping Brexit but stopping Corbyn and stopping the changes this country needs to re-orient our economic policy for the people, not the elitist bankers and the corporatist establishment.
Don't fall for this fallacy, this conspiracy of right-of-centre politicians fighting to re-light the fading fire of neo-liberalism. Campaign not for a People's Vote but for a #GeneralElectionNow and be the change we ALL want and desperately need.