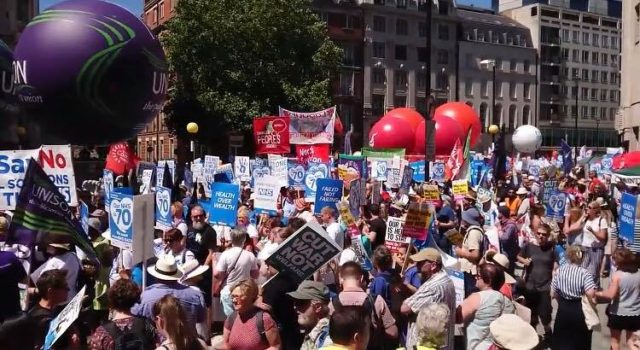 Evaluating this week in parliament, I think we've witnessed yet again classic Tory ideology. As the NHS reaches its 70th birthday, the opposition, particularly the Labour Party section (the party which created the NHS), wore their "NHS 70" badges with pride whilst the Tory party were bare-chested.
This may seem a small issue but it goes deeper than that. This is a health system that my own mother has dedicated 35 years to and worked her fingers to the bone for – yet as inflation has risen since 2010, she's not had a pay rise and her job has been made progressively worse through heightened, almost impossible to hit targets and understaffing, something that is evident across the nation.
Despite this, it's been saddening when BBC Radio 4 and various articles posted online focus solely on criticising the NHS for its staff productivity and method of management. For me and many others within the Labour Party, it is no shock to see this sort of stance from a majority right-wing corporate owned media establishment in Britain. The kind of people that own these rags, encourage their journalists to write these articles, people such as Rupert Murdoch, who would happily see the NHS sold off to private companies so they can own a share of the profits.
As someone who truly cares about this system, as someone whose own mother was saved in this service in her time of need when she had cancer. Let me and everyone else in the Labour Party put it this simply – our beloved NHS needs money and extra staffing and it needs it now.
In the winter of 2017, our health service for the first time in its history was referred to by the United Nations Council as a "humanitarian crisis" as patients died in corridors and lives were needlessly lost through gross understaffing, making it impossible for our nurses and doctors to do their job properly. This could have been avoidable.
Currently, there are 100,000 vacant jobs within the health system. Jobs which aren't wanted because of the current situation of our health care. The nurse bursary was stripped away in September 2016. This meant that young people who chose to attend university to train in nursing would no longer be funded by the government to do so. Instead, they would be lumbered with approximately £50,000 student debt, work a placement of 38 hours a week UNPAID and then do over time in order to feed themselves properly – all of this on top of their actual study. Due to this government's decision, it's no wonder that nurse recruitment numbers are dropping and this last academic year only 700 applicants decided to train for a nursing degree.
On top of this, Brexit (a project in which I would be in favour of if negotiated under a Labour government) has been dealt with in such an incredibly poor way that EU and non-EU migrant workers within the NHS are going back home because they are scared of their future and potential recruits from other countries are now reluctant to come here in order to work for the NHS. You also have to consider the fact that many nurses and doctors now employed are 50+ and close to retirement age, with replacement numbers lower than people leaving it'll be no time before staff numbers drop way below current figures.
As Mrs May claims, there has never been such levels of funding going into the system. But this isn't entirely true. Although there may be a significant rise in funding since the chancellor's winter statement in 2017, in real terms when considering inflation, this isn't an increase rather a decrease. When you look at funding in real terms over the last century, the NHS was best funded under a Blair/Brown Labour government.
The funding from the chancellor of the exchequer is also largely being used to subsidise the private aspect of the NHS and further companies such as Richard Branson's "virgin care".
Theresa May's government pledged to back the "Naylor Review" as a way of improving certain areas of the NHS's property. In reality, this review is an asset stripping system in which the government encourages hospitals to sell off sections of their hospital to "NHS property services" in order to fund highly expensive equipment such as MRI scanning machines. These NHS properties are then controlled by private companies. Currently, they own 10% of the NHS property with plans to purchase further NHS properties.
Despite all of its failings, the people came together on the 30th June 2018 to fight against all of these proposals that have been suggested or implemented by the government. Thousands of Labour supporters and activists, including Jeremy Corbyn, John McDonnell and John Ashworth came together today to fight against these NHS service cuts and austerity at large. I couldn't be there due to work but I am glad it was such a huge success.
So with today's event in mind and the facts about the Tory government's record – next time the NHS topic comes up in a political conversation, remember which party created it and remember which party voted against it a successive amount of times, remember which party fights to save it and remember which party fights to sell it to private companies.
I was elected as part of a three, to be Youth Officer of the Bolsover CLP along with Ashley Taylor and Rowan Clarke, together in our area we will fight to uphold the sanctity of the NHS and you should too!
Join the Labour Party and join the picket before it's too late.
By Cameron Mitchell