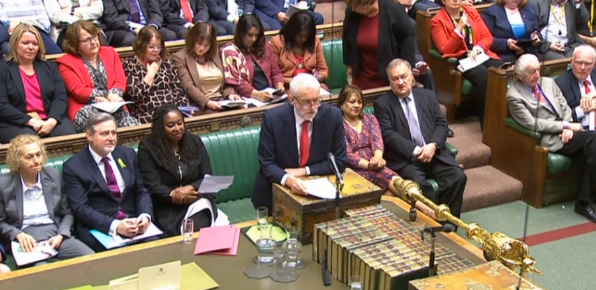 Jeremy Corbyn and Theresa May faced off against each other today. This week Theresa May's opening statement made mention to the 2nd anniversary of the Grenfell fire and said the survivors have endured so much with dignity.
Jeremy Corbyn Also spoke about the Grenfell fire and made mention of the recent fire in Barking. He also commemorated what would have been Anne Franks 90th birthday today and quoted one of the most famous lines from her diary.
"Human greatness does not lie in wealth or power but in character and goodness."
He also welcomed new MP of Peterborough, Lisa Forbes. Jeremy Corbyn went on to state that manufacturing in the UK was in crisis. He advised that since 2016 147,000 fewer people working in manufacturing which is the largest fall in two decades.
Theresa May grasped at Mr. Corbyn's Anne Frank commemoration and went on to say that is why everyone in this house should do all they can in the fight against antisemitism.
She spoke about a new industrial strategy, which also includes installing 5G in the West Midlands and also advised that on Monday she attended tech week in London and spoke about the growing use of technology in this country.
Corbyn mentions Brexit asking if the PM would reiterate how detrimental a no deal Brexit would be to us as more car making businesses pull out of the UK.
Theresa May followed up with her much used favorite response to questions about no deal Brexit. "You should have voted for the deal".
Jeremy hit back "Her deal was rejected three times by parliament"
Jeremy Corbyn went on to discuss British steel and raised further government failures to invest in British industry such as renewable energy and the Swansea tidal lagoon.
Jeremy Corbyn took a leaf out of Theresa May's book this week and used his last question to absolutely annihilate the government's record on industrial development in this country. he listed every failure.
"This govt's legacy is a failure. They claimed they would tackle burning injustices. They failed. They said pensioners benefits were safe. They're taking away free TV licences. They promised action on Grenfell. There is flammable cladding on thousands of homes. They promised a Northern Powerhouse. Every Northern newspaper is campaigning for the Government to 'power up the North'. They promise net zero by 2050. Yet they're missing their own climate targets. They promised an industrial strategy, yet output is falling – Which does the Prime Minister see as the biggest industrial failure of her Government – is it the car industry, the steel industry or the renewables industry?"
He really pummeled the government here and it was powerfully done, Theresa May responded firstly by mocking him suggesting he had listed these failures for a youtube clip.
Of course, the PM did not answer this question but went on to repeat heavily used soundbites some of which have been proven incorrect by the Office of National Statistics to state what her government's achievements have been.