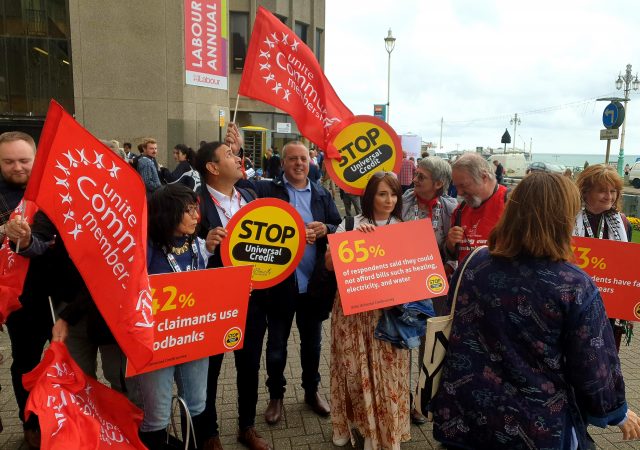 On Monday the 23rd September 2019 Unite Community held a fringe event at conference releasing a report on Universal Credit. Just under 1200 people completed surveys regarding their views and experiences and the evidence collated is damning.
It will not surprise many that Universal Credit is such a disaster. Wherever this awful policy has gone it has left foodbanks, baby banks, school uniform banks and homelessness in its wake.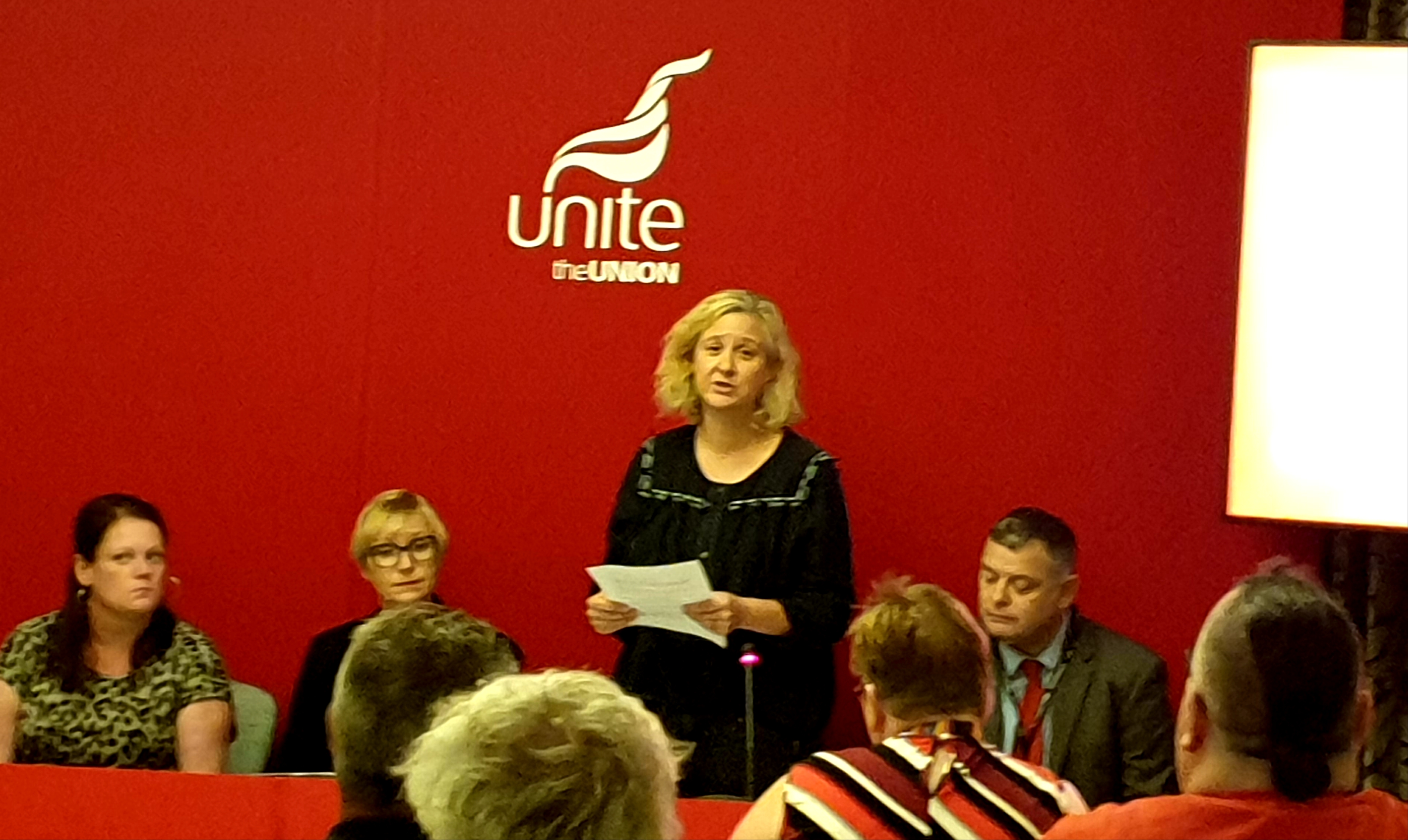 Mirror journalist, Rosalind Jones spoke at the event she referred to the first DWP press release when Universal Credit was being launched, it said. "Universal Credit is nothing less than the start of a fundamental cultural shift of the welfare system. This will revolutionise the way that people experience the welfare state."
"And what a revolution that has been and it certainly wasn't a bloodless revolution. It has cost hopes, dreams, potential and lives." Added Rosalind.
Unite's report shows that 69.3% of claimants admitted to having to skip meals, 41.9% had made use of food banks. 78.2% could not afford clothing and 78.4% complained they could not afford bills such as heating, electricity and water. 73.3% had experienced being in arrears with their rent and 4.2% had been evicted.
A comment from one of the respondents to the survey said "Since we were forced on Universal Credit I've tried to commit suicide three times (before Universal Credit I'd never tried this once) me and my eight-year-old have had to spend a month living off crackers and tins or frozen veg in a bowl on their own for meals."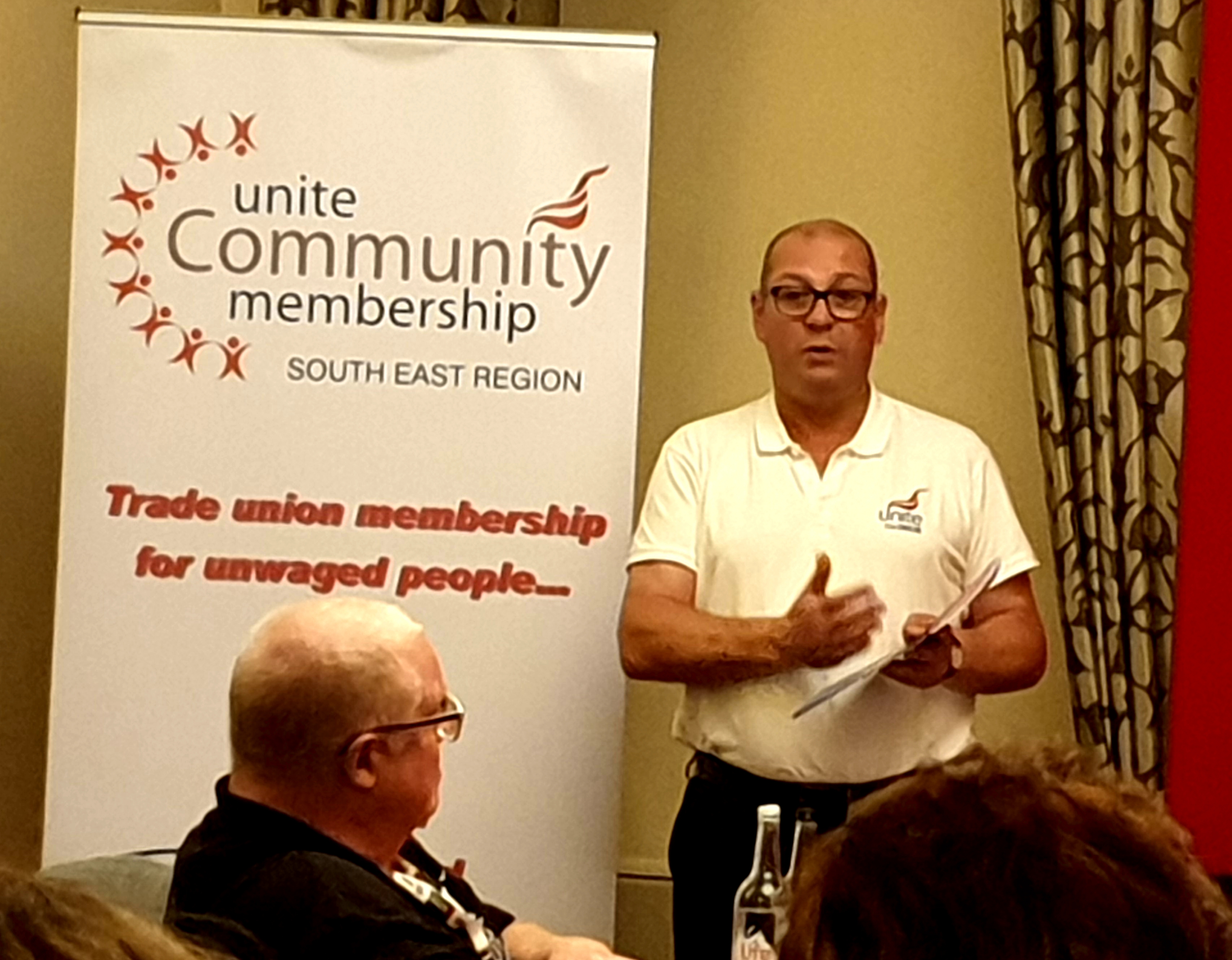 Unite Community member, Kerry Wilkes has experienced Universal Credit first-hand and described it as "the most demoralising thing this government has ever done." She reminded the audience of Theresa May stating that work pays, "it doesn't" said Kerry "You are no better off working."
One of the key findings of Unite's report described Universal Credit as an industrial issue that impacts on working people. "It is particularly unfair to part-time, low-paid, zero hours and agency workers as well as the self-employed."
Shadow Minister for Employment, Mike Amesbury spoke about the true story of a mother of four children who had fought anorexia and mental health issues. She found herself in a situation where she was sanctioned. She stopped eating and was found frozen to death. She died because of the Conservatives approach to social security and for what?
£37 billion per year saved whilst they gave £110 billion to the richest corporations and individuals. "That's their approach to social security. Same old nasty Tories and things have got to change." Said Mike Amesbury.
He spoke about Ian Duncan Smith who not only introduced the cruel welfare reform policies but whilst doing so he took £50 million away from the legal aid budget. Preventing people from fighting against these unfair policies.
Amesbury spoke about having a socially just system with compassion at its heart. Under a Labour government from day one a rescue package would need to be in place. Get rid of the five weeks wait and stop sanctions.
The next stage would be to rebuild the social security system. Finally to make sure that work does pay by creating a ministry of employment and giving power back to the unions.
One in four of all respondents to Unite's survey reported that they had been sanctioned. The report states "The evidence of the impact on claimants is stark. People who had been sanctioned were substantially more likely to have been pushed into debt." This includes having to use payday loans, loan sharks, using food banks and at the worst facing rent arrears or eviction.  Sanctions could also potentially affect working people if they cannot demonstrate to the DWP that they are seeking to improve their paid income.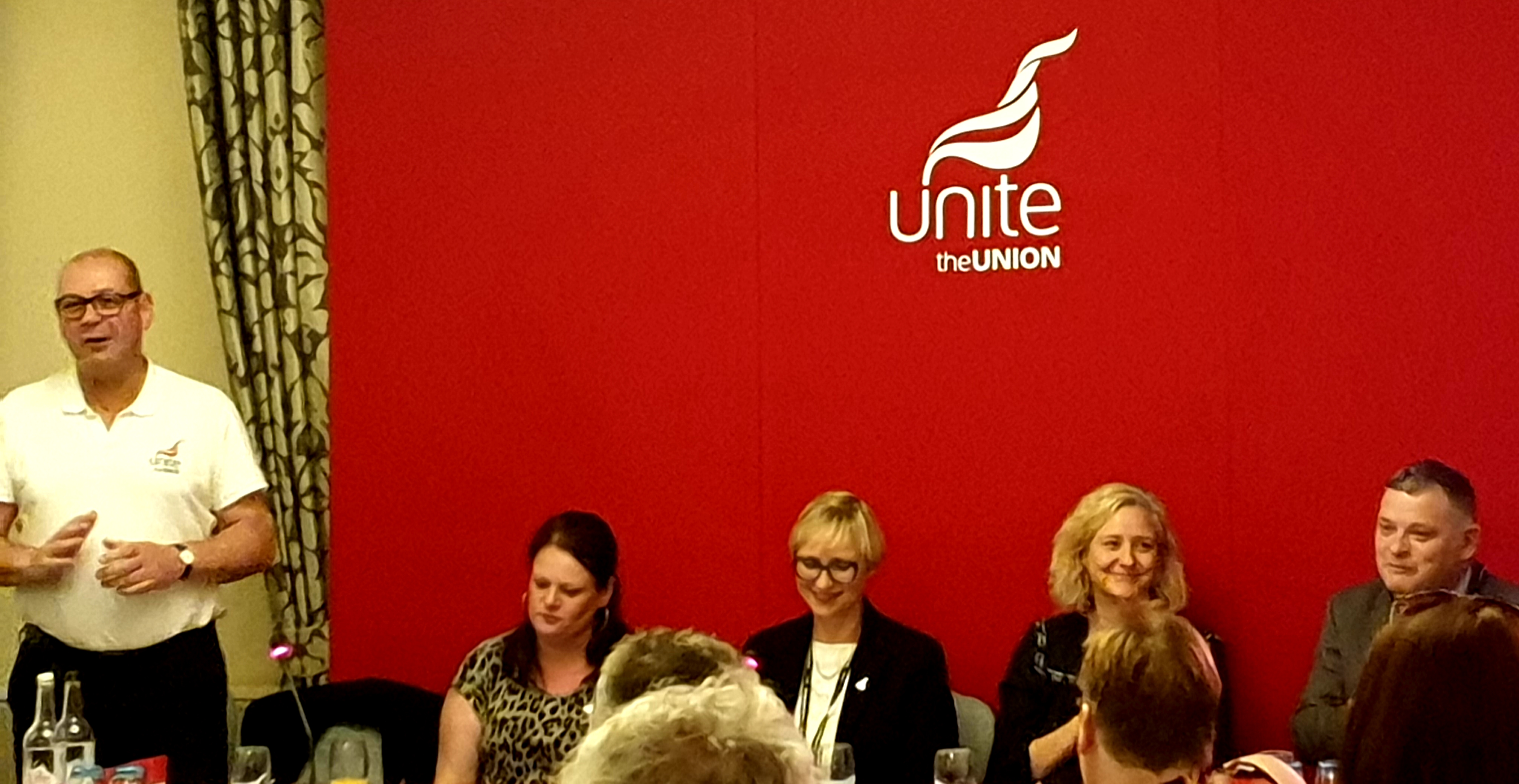 Assistant general secretary of Unite the Union and anti-austerity campaigner, Steve Turner spoke about his pride of what Unite did to establish Unite Community. He said "This has given a real voice to those people. It has taken unions back into our communities again. Alright it's Unite that is doing it but it has taken trade unionism values of solidarity, unity, equality and justice back into our communities." He went on to say how they had become a collective organisation for good and they had made a difference, he added "I'm incredibly proud of our Unite Community members."
Steve went on to discuss a woman who he called Emma, she was a NHS worker who was stuck in a horribly abusive relationship, when she finally escaped that relationship and had to sign on to Universal Credit she instantly lost £350 a month. She would experience long periods of no money and said if she had known what she would go through, she would have stayed with her rapist husband…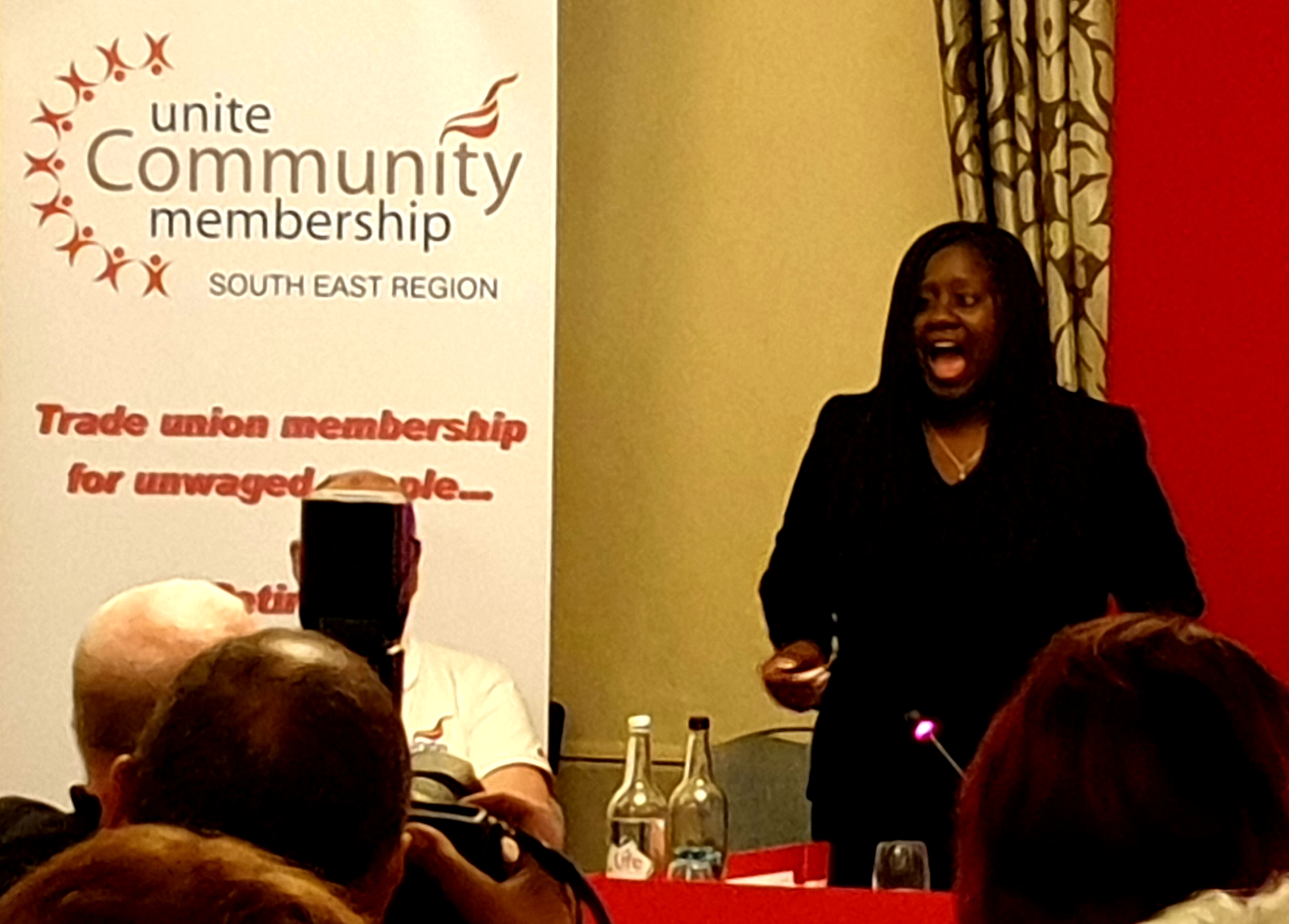 Shadow Minister for work and pensions, Marsha De Cordova also spoke briefly at the fringe meeting stating how important it was that we get a Jeremy Corbyn led Labour party into government. She also paid tribute to the Unite Community members for the work they did in collecting information for Unite's report. She went on to say "Everyone deserves an adequate income to survive"
A full video of the event can be found here.
Unite's report on Universal credit can be found here we recommend you read it.