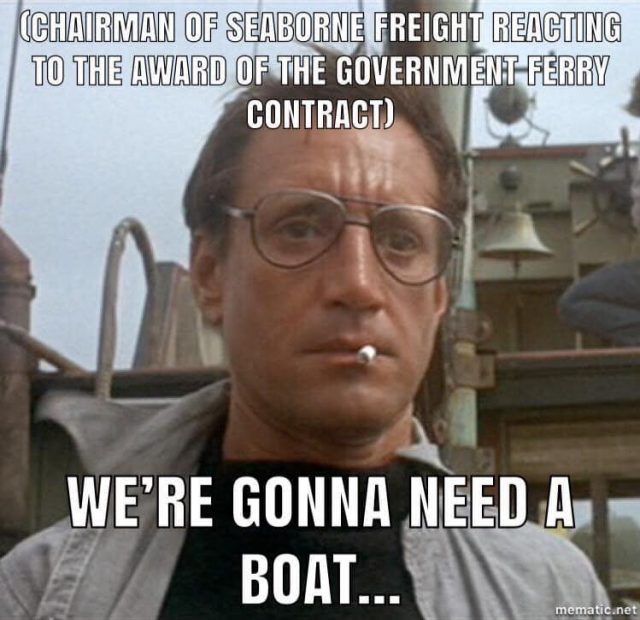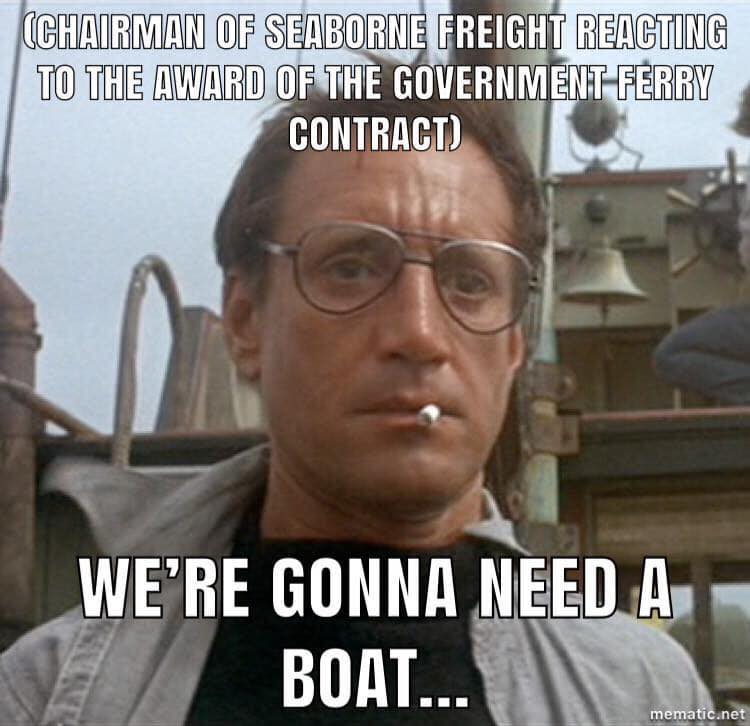 Due Diligence or Sheer Incompetence?
Chris Grayling the incompetent Secretary of State for Transport has plunged new depths of utter stupidity. He has seen fit to award a contract to the company; Seaborne Freight with no ships to convey freight via the Port of Ramsgate to Ostend.
Seaborne Freight is based at 59 Mansell Street London E1 8AN. Coincidentally this just happens to be the same address as Campbell Johnson Clark, who provide a legal and a commercial perspective on all shipping related matters.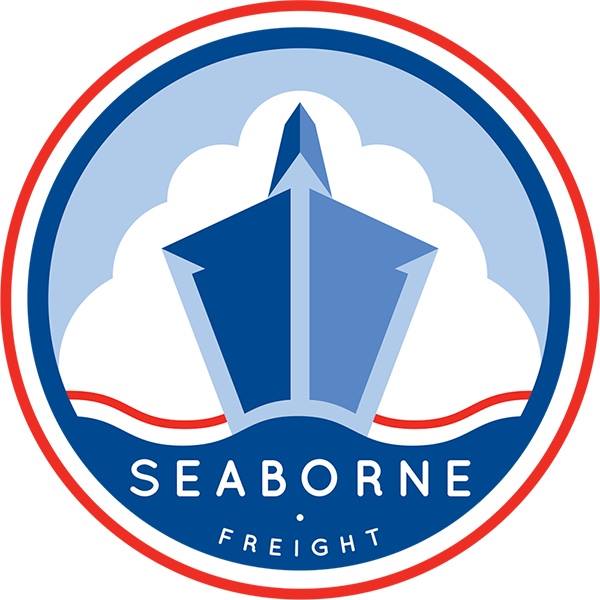 Seaborne Freight was established on 5th April 2017, one of their directors is listed at Companies House as John Edmund Paul Sharp, he is also a director of Albany Shipping, he was previously a director at Mercator from 2013 until they were dissolved in 2014 to create Albany Shipping. Also shown as the Managing Director of Albany Shipping is a Ben Sharp, he formed Albany Shipping in 2014 from his previous company Mercator whose primary aim was to provide consultancy to financial institutions and to charter and operate vessels. http://albanyshipping.co.uk/who-we-are.php.
Mercator went into insolvency in December 2014, the winding-up order was concluded on 6th October 2015 and the company was due to be dissolved on 15th January 2016. https://beta.companieshouse.gov.uk/comp…/07557213/insolvency. It would appear that Ben Sharp and John Paul Edmund Sharp are the same person. On all checks with Companies House, Ben Sharp is not listed on any of the three companies mentioned, Mercator, Albany Shipping and Seaborne Freight. The only reference to Ben Sharp is on the Albany Shipping web site. http://albanyshipping.co.uk/who-we-are.php
Albany Shipping is based at Unit 15, Basepoint, Shearway Business Park, Shearway Road, Folkestone, Kent, England, CT19 4RH. This is just along the Kent coast from Ramsgate. John Edmund Paul Sharp was also briefly a director of another company known as Agile Shipping International Limited, they were formed on 7th April 2017 and dissolved on 28th November 2017, their initial correspondence address was 1 the Gate House Chapel Street Hythe Kent CT21 5BE, which is also close to Folkestone where Albany Shipping is based. The contact telephone number for Seaborne Freight 01233 201783 is not at their London address but is located within the Ashford exchange. This is the neighbouring exchange to Folkestone. (Companies House listings). Also shown as directors of Seaborne Freight are; Keith Louis Richard Jones and Brian John Dawson Raincock,https://beta.companieshouse.gov.uk/company/10709921/officers, all three are also shown as directors for Albany Shipping https://beta.companieshouse.gov.uk/company/08891537/officers.
So the link between Albany Shipping and Seaborne Freight is established through the directorship of John Edmund Paul Sharp, Keith Louis Richard Jones and Brian John Dawson Raincock. Seaborne Freight a company with no vessels or freight experience are linked to Albany Shipping who were formed in 2014 to operate and charter vessels but not actually own the said vessels, who were born out of Mercator (they were dissolved in Jan 2016 due to insolvency) who were initially formed in 2005 to provide consultancy to International Financial Institutions and to charter and operate vessels.
Seaborne Freight who wish to operate out of Ramsgate and provide freight service between Ramsgate and Ostend currently have no ships of their own and will no doubt attempt to charter vessels from other shipping companies as yet unknown.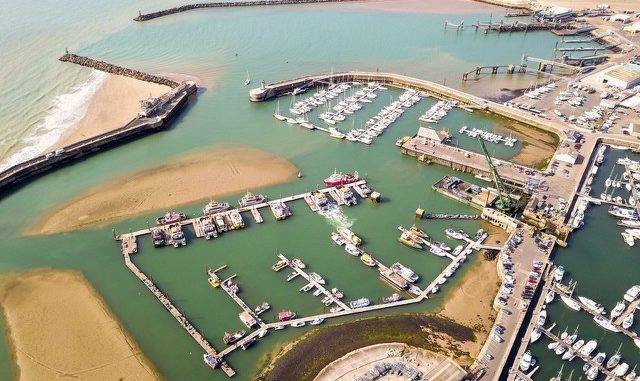 The registered address for Seaborne Freight is the same as Campbell Johnson Clark, who specialises in legal services to the maritime industry and Mr. Grayling has decided in his wisdom to award a £13.8 million contract of public money to Seaborne Freight to provide Freight services between Ramsgate and Ostend despite their lack of ships and never having operated a freight service. His department has also awarded contracts to Brittany Ferries (£46 million) and DFDS Ferries (£47 million) to provide extra ferry capacity out of ports at Plymouth, Poole, Portsmouth, Felixstowe and Immingham.
However, the contract that has raised real concern is the award to Seaborne Freight of £13.8 million without being put out to tender. The Dept of Transport stated that due to time constraints and the unforeseen urgency there was no time to invite tenders which is the standard practice for public procurements.
So Chris Graylings department who have known since 23rd June 2016 that the possibility of hard borders with the EU would potentially be an issue suddenly decided on 22nd December 2018 to sneak out the news before the Christmas recess and award a contract of £13.8 million to a company that is in effect no more than a front for Albany Shipping. It has no tangible assets and Director John Edmund Paul Sharp who uses an alias of Ben Sharp and operates companies that have been dissolved due to financial insolvency. Yet Christopher Grayling claims due diligence has been exercised in the awarding of this contract to a man running a company who appears to be nothing more than a chancer.
It is also worth noting that the port of Ramsgate would require dredging before it could provide suitable berths for freight vessels to be able to operate from the port. An investment of £26 million is required to bring the port of Ramsgate up to the required standard to operate up to 24 sailings per day. (Isle of Thanet News).
Dredging began in the port of Ramsgate today 3rd January 2019. (ITV News).
The incompetence that pervades the Tory Party has once again manifested itself with this award of an uncontested contract to a company which to all intents and purposes is nothing more than a shell company and a front for Albany Shipping. In 2015 Albany was fundamental in the creation of a new Shipping Fund in the UK specifically for the purpose of purchasing offshore vessels. The fund is based in Gibraltar and is managed by Flexagon Capital Solutions LLP in London, with TMF Custom House Fund Services (Ireland) as Administrator.
The primary purpose of the fund is to invest in the acquisition of offshore vessels to achieve the investment criteria as set out by the Directors of the fund. Albany's role as Investment Advisor is to propose suitable vessels to be presented to the board and if purchased then operate those vessels. (http://albanyshipping.co.uk/investment-advisor.php)
The Tories have once again shown the true colours of self-serving corruption and shown that they are not fit to conduct negotiations over divorcing the EU let alone the task of governing the UK, a task that they have failed completely due to their political inertia since the result of the referendum was known. They have become fixated on Brexit, yet like a rabbit caught in the glare of headlights have frozen and negotiated nothing and now with less than three months till the impending divorce date have been caught out busily giving away public money to a company with no ships no crews no tangible assets and the taxpaying British Public are supposed to accept this very thinly veiled corruption.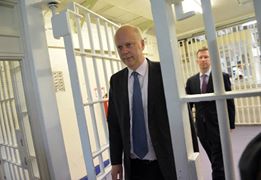 The link between the Tory Party or individuals in the Tory Party and officials of Seaborne Freight has yet to be made, but further questions must be put to Mr. Grayling and his department as to how they arrived at this ridiculous award of a Government contract in the eyes of most neutral sane observers, is nothing more than a fly by night company operating as an effective Ponzi scheme.