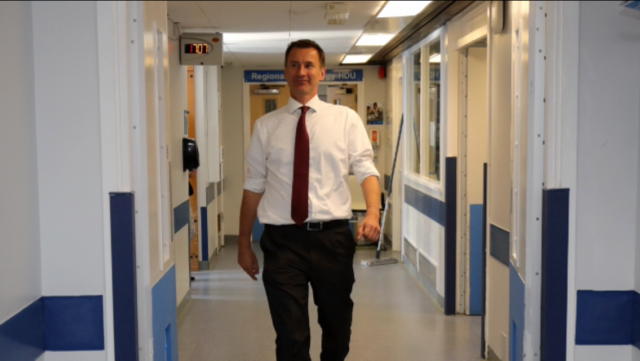 Jeremy Hunt visited Stroud yesterday in an attempt at an undercover meeting of key participants in his plans to sell our NHS but locals found out about the Friday visit late Thursday afternoon  and members of the public were there to greet him .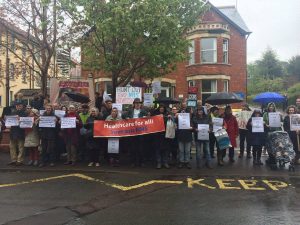 As we walked into Stroud hospital it was as quiet as a Sunday afternoon, 3 people in the minor injuries unit and four others in the entire hospital attending clinics which are usually full to bursting if you visit on any other day of the year. the usually full carpark coned off and deserted.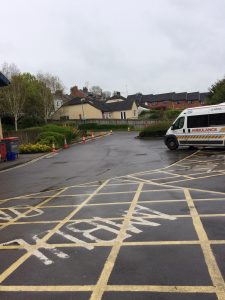 In reception however there was bustling activity, a number of suited and booted 'staffers' for Hunt were busy trying to assess the 'crisis' of protestors gathering outside the hospital . Police were called and the Matron of the hospital was dispatched outside to 'talk' to demonstrators about keeping the entrance to the hospital clear for access and egress. The staffers followed her, on their phones to other staffers with Hunt presumably relaying the 'threat' level of a few dozen locals angry about the privatisation of our NHS. Though to be fair the number of protestors outside far outweighed Hunts supporters inside .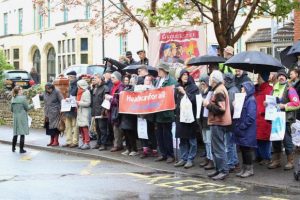 A desultory parade of consultants, docs and nurse passed through the 'checkpoint' in reception to attend the meeting. Approx 20 people, including a phalanx of young blonde women in full nurse attire with capes who no one on the hospital  staff knew.
We had sent questions for Hunt :    1: A study finds there have been 10,000 excess deaths so far this year . Is it time for the government to withdraw from interfering with the running of our NHS and just fund it properly ?                                  Hunt : please contact my office with the data evidence for your numbers as I have no knowledge of that . The government has funded the NHS and does not interfere with the running of it .
2: When will you admit to plans to give our NHS to American corporates in particular United health ?                                      Hunt : We are funding the NHS and it will remain free at the point of access .
3: How necessary to your privatisation plans is it to silence whistle blowers ?                      Hunt: No reply.
We hadn't expected any answers to our questions and true to form we didn't really get any. Hunt also refused to talk to the public outside and his car was pelted with flour as he left to see if he had any more luck in Bath.
http://www.stroudnewsandjournal.co.uk/news/16190198.Health_Secretary_Jeremy_Hunt_s_car_pelted_with_flour_in_Stroud/
Stroud campaigner Caroline Molloy spoke to Stroud News and Journal about why people are so angry and concerned for our NHS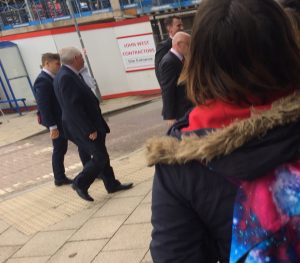 When Hunt reached Bath he was booed
https://www.somersetlive.co.uk/in-your-area/health-secretary-jeremy-hunt-booed-1509616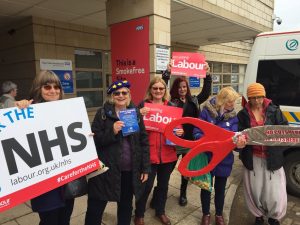 So don't fall for Hunt's lies . Tory policy is to privatise our NHS