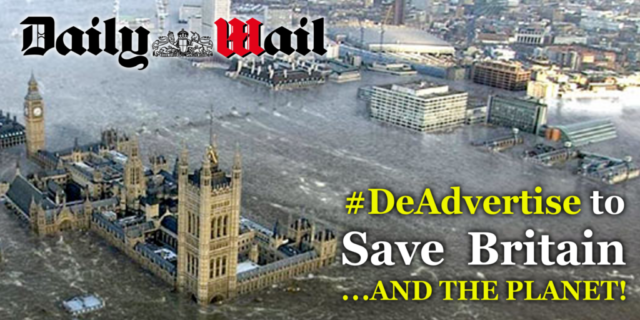 A handful of right wing media billionnaires have been using their newspapers as propaganda rags to attack climate science and oppose climate action, writes Donnachadh McCarthy. Yet even 'climate leader' companies like M&S are fuelling their profits by advertising with them. Now a new #Deadvertisment campaign is demanding them to stop, right now.
If these papers stopped their horrific climate-sceptic propaganda and instead positively helped the effort to save Britain's future, the fossil fuel industry's successful lobbying to block government actions would be swept away.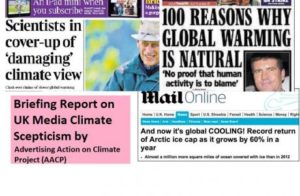 With global temperature records, as in President Obama's words,"terrifyingly being broken" month after month, it is clear that we are in the middle of the most urgent global emergency humanity has ever faced, other than the 1960's Cuban missile crisis.
Whilst positive progress was made at the 2015 Paris Climate Summit, scientists are agreed that the measures proposed will not prevent us breaching the agreed disastrously high 2C rise in temperatures.
As Bill McKibben says, nothing other than a global concerted effort on the level of the first world war, second world war and the great recession put together, can now save our planet's ecological future.
It is therefore crucial that the climate crisis movement urgently identifies and tackles the key blockages to the emergency effort required.
In the UK, one of those key blockages is the climate-sceptic propaganda being pumped out by the media corporations owned by the UK's five far-right, climate-action blocking media billionaires.
Naming the names: Murdoch, Desmond, Barclay
These are Rupert Murdoch's Times and Sun, Richard Desmond's Express, Lord Rothermere's Daily Mail and the Barclay brothers' Telegraph.
An international study by the Reuters Institute, in 2011, found that climate scepticism was especially prevalent in the US and UK media. Since then matters have got worse, as exemplified by a recent letter to The Times by distinguished leaders of the UK's scientific community, condemning the unscientific nature of its climate coverage.
This was provoked by ludicrous Times headlines including:
"The planet is not overheating, says Professor" – Ben Webster Feb 2016
"Global warming is good for agriculture, claims scientist" – May 2014
"Science is turning back to the dark ages" – Melanie Phillips March 2016
Times owner Rupert Murdoch said: "We should approach climate change with great scepticism. Climate change has been going on as long as the planet is here. There will always be a little bit of it. We can't stop it. We've just got to stop building vast houses on seashores."
This unscientific climate propaganda has led to the UK and US having among the most climate sceptic populations in an Ipsos international survey in 2014.
The result is that the government and fossil fuel industry have disastrously, over the last few years, dismantled many government programmes aimed at reducing UK carbon emissions. These unbelievably included imposing a climate-change tax on renewable energy, whilst reducing taxes on fracking and oil exploration, without triggering a major public outcry.
A new grassroots campaign group has been launched to tackle this flood of destructive climate propaganda, called the Advertising Action on Climate Project (AACP). It has produced a full briefing paper on the UK's media climate scepticism.
AACP is targeting those corporations who claim that they understand the seriousness of the climate emergency, arguing that they must take responsibility for the fact that their advertising budgets with these papers are funding lethally destructive climate-sceptic propaganda.
They need to urgently stop advertising with these papers or actively engage in a constructive dialogue with these media organisations' editors and owners on the issue. Climate coverage must be science based and an end put to the flood of misinformation from anti-scientific climate-sceptic pro fossil fuel industry commentators.
But the urgency of the crisis requires much more than this. These five media billionaire corporations must instead be energetic advocates of solutions to the catastrophe.
To achieve this, AACP last month launched their Climate De-advertisement Campaign, (#Deadvertisement) which calls on climate-responsible corporations to stop advertising with climate-sceptic propagandising newspapers.
Our first target : M&S – stop rewarding Daily Mail!
It's first target is Marks & Spencer's funding of the Daily Mail. M&S's laudable commitment to their Plan A carbon reduction programme, states that they will encourage the greening of their supply chain.
M&S must now include the greening of those who supply advertising services to them, including the Daily Mail and Sunday Mail, whose climate sceptic headlines have included:
"Forget global warming – if NASA scientists are right the Thames will be freezing over again".
"The Great Green Con: Hard proof that finally shows global warming forecasts that are costing you billions were WRONG." – Mail on Sunday 2013.
"Vanishing Arctic Ice Caps? No, they've grown by 40%" – Colin Fernandez Jul 2015. (He conflated year-on-year changes with overall trend.)
A 2011 Mail editorial stated: "Ministers must halt their politically correct obsession with green energy taxes. The science of climate-change remains shrouded in doubt. Ministers must drop their dogma about global warming."
Shockingly, a former Mail journalist reported to AACP that a Mail science editor was asked at their job interview if they would be comfortable promoting climate-scepticism!
More climate claptrap from the Sun, Times, Telegraph, Express
The coverage in the other right-wing billionaire papers is equally destructive. The Reuters Institute Study found that, over a two-year period, more than 50% of The Sun's columns and editorials on climate change were climate sceptic, with headlines such as "Climate change is a con" and "Climate fear is bonkers."
The Daily Telegraph's James Delingpole, who has no climate science qualifications, describes climate advocacy as "possibly greatest threat Western civilisation has ever known". His campaign against wind-farms laid the groundwork for the Tory abolition of support for onshore wind turbines.
The Express's owner, Richard Desmond, is one of UKIP's largest donors. UKIP does not accept climate-science and advocates abolition of the Climate Change Act, promotion of coal and fracking, abolition of CO2 regulations on coal plants and ending all subsidies to renewables. The Express's climate-sceptic headlines have included:
"Burning fossil fuels cools planet, says NASA."
"Global warming the greatest scam in history – claims founder of Weather Channel"; and
"Global warming farce: Overwhelming majority of Britons think climate-change is fake."
If these papers stopped their horrific climate-sceptic propaganda and instead positively helped the effort to save Britain's future, by energetically advocating action on the emergency, then the fossil fuel industry's successful lobbying to block government actions would be swept away.
Action: the Advertising Action on Climate Project (AACP) is now one of the most urgent issues for the climate movement. Check out the Facebook page for details of the various campaigns we are launching and please help in any way you can .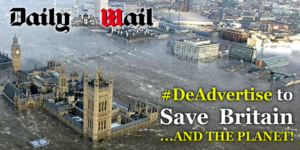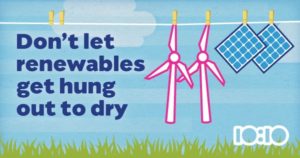 Twitter: #Deadvertisement
Donnachadh McCarthy FRSA is Founder of the Advertising Action on Climate Project. Email him at [email protected].
https://www.campaigncc.org/media_climate
This article came to us from our friends at Dorset Eye . Please visit their site for more articles like this . http://www.dorseteye.com/north/articles/responsible-advertisers-must-boycott-climate-sceptic-mail-sun-times-telegraph-express