Asda invests into Veterans' charity to train ex-military as HGV Drivers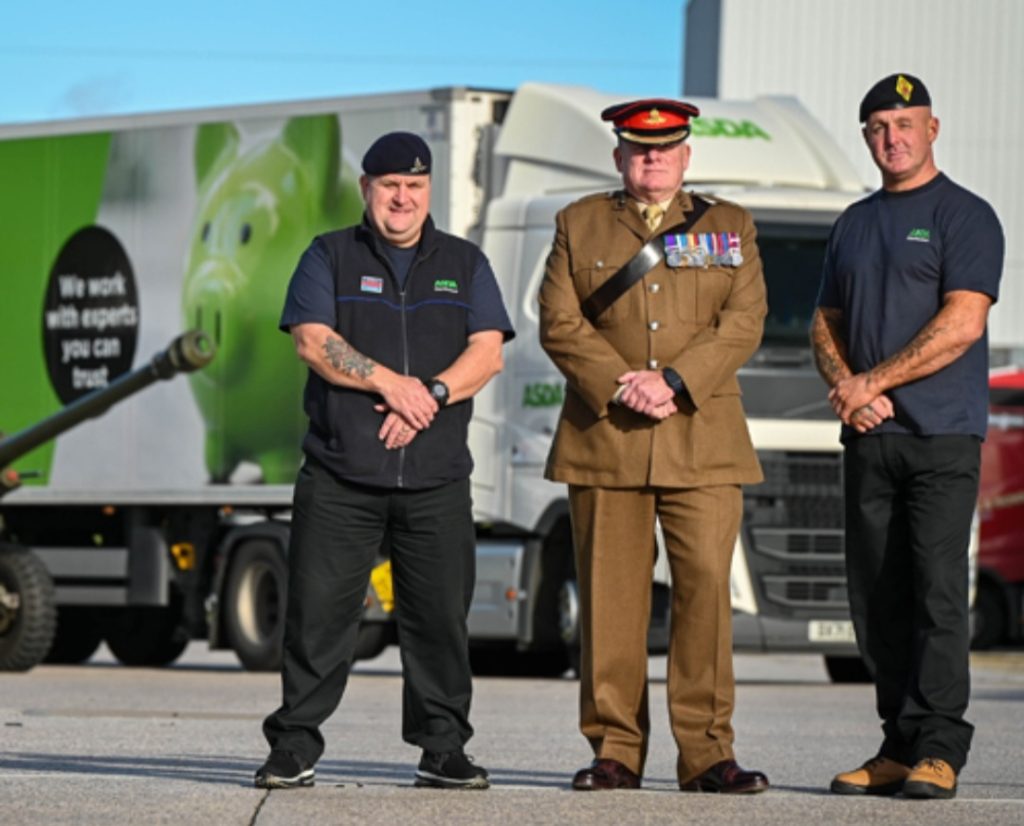 Veterans into Logistics has received a welcomed funding boost of £40,000 from Asda to train 10 armed forces veterans into new careers as HGV drivers.
Member of Parliament for Washington and Sunderland West, Sharon Hodgson MP visited Asda's Distribution Centre in Washington on Monday 07 November to celebrate the partnership between Asda and Veterans into Logistics, and to speak to veterans Martin Douglas and Iain Stirling who are now employed by Asda.
Veterans into Logistics has a two-year established partnership with Asda Logistics Services who support their mission of preventing homelessness and unemployment in the veteran community.
This significant donation from Asda will help to provide training and mentoring for the veterans to pass their HGV licences, resulting in new driving careers.

Veterans into Logistics Trustee, Major Daryl Groves is passionate about supporting ex-military personnel. Alongside the charity's dedicated driver training scheme, the team also provide personal guidance, as they understand the skills, discipline, and hard-working ethos that ex-military personnel have from their careers in the armed forces.
The charity's mission is to support those who have fallen on hard times after leaving the military as some can slip through the net, ending up unemployed, homeless, suffering with addiction issues or even ending up in prison.

Major Groves said: "We are extremely grateful for this donation from Asda which will enable us to train 10 veterans into new careers as HGV drivers.

"We are so pleased that Asda continue to partner with us and see the benefits of employing veterans with the dedication and skills they bring. We have already upskilled and supported veterans who are working for Asda Logistics Services who say they are enjoying their new careers and feel respected and appreciated by Asda.
"This donation will be life-changing for the veterans it supports, bringing structure, stability and financial security."

Now an Asda colleague, thirty-five-year-old Martin Douglas from Washington left the Armed Forces in 2010. He spent seven years in the Royal Engineers and went on a tour of Afghanistan.

He found out about Veterans into Logistics through a social media page where he was asking for advice about working as an HGV driver, as he already had experience of driving plant machinery in the Army.
ViL founder, Darren Wright contacted Martin and referred him to Asda who facilitated him completing his CPC Module 2 & 4.
He has now been working as an HGV driver for Asda for 15 months, delivering chilled and frozen produce across the North East and Yorkshire.

He said: "I'm now in a place where I'm happy in life and Veterans into Logistics helped provide that route to fulfilment. My family and kids can now see how happy I am. Thanks to ViL and Asda, I enjoy going to work.
"The donation from Asda will help other veterans to feel the same as me, supported into a new career where they will look forward to getting up in the morning and doing a job they love."

Melanie Richmond, Training Manager at Asda Logistics Services said: "We are delighted to continue our partnership with Veterans into Logistics with this investment that will help to support 10 armed forces veterans with the opportunity to be upskilled to hold an HGV licence.
"We have been working with Veterans into Logistics for the last two years, helping them with their vision of supporting and rehabilitating ex armed forces back into work and civilian life and the next step of their life journey."
Member of Parliament for Washington and Sunderland West, Sharon Hodgson MP, said: "I am delighted that Asda are donating £40,000 towards the training of 10 unemployed ex-services personnel to be HGV drivers, and it is fantastic that Asda Washington will be the central depot for the training. I was honoured to be invited to the presentation at the depot and look forward to supporting investment in the skills of the future for veterans."
Veterans into Logistics' National Coordinator, Alec McFadden said: "We would like to thank Asda for this donation that will change the lives of the ten veterans who have new careers as HGV drivers.
"We not only train them and build their confidence, but this funding will help improve the quality of life for our veterans and their families. After professional training, they will become fully qualified HGV drivers and will work for ASDA delivering food and all the commodities that our partner provides for their millions of customers."

Veterans into Logistics has had an exceptional first two years by either successfully training or supporting hundreds of ex-military personnel into new HGV driving careers, featuring in a BBC 1 documentary, receiving high profile ministerial visits from the Cabinet Office and being awarded the prestigious Gold Armed Forces Covenant for their support to reservists, service leavers and the veteran community.
For more information on Veterans into Logistics, visit: www.veteransintologistics.org.uk

Veterans into Logistics, a non-profit organisation formed to provide training and support to change the lives of ex-forces, individuals with convictions and any other vulnerable people who need help to gain HGV licences and support into paid employment.
 
Our mission is to reduce unemployment and homelessness amongst the ex-military community by creating a pathway for veterans into the transport and logistics industry.