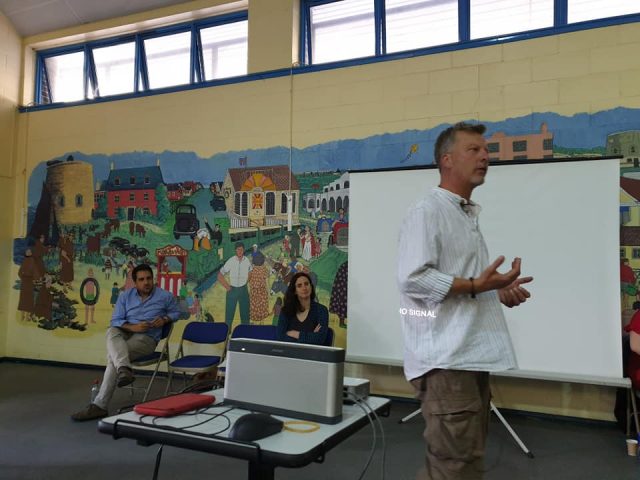 In November 2018, United Nations Special Rapporteur on Poverty, Philip Alston visited locations across the UK to investigate poverty in the UK. While he was here one of the places he visited was Jaywick, where an event purposely geared towards emphasising the plights and problems people now face was held. His damning report was officially published in May.
Nine months on, locals, visitors and officials once more gathered at the community resource centre in Jaywick for a follow-up event. The purpose: knowing your human rights. As before the event was organised by Clacton Unite Community branch, working in collaboration with The University of Essex, Human Rights and Law Centre.
The Chair, Roy Kerr began the event with a short introduction explaining about the new "more empowered" collaboration between Unite, communities and the University. He spoke of a "Bank of knowledge" the university experts could provide before he then introduced the first speaker, Andrew Fagan who is a political theorist in the Human Rights department of Essex University.
Andrew began by explaining a little about the Human Rights department and how they were well known for work and research in places such as Asia before moving on to describe the basics of what human rights are and how we all have them. "You do not have to earn human rights." he explained, "You can use human rights to hold governments and councils to account and get them to deliver". He stated some very important points right from the beginning, such as how we are actually encouraged to believe only criminals and wrong-doers are entitled to human rights rather than them being a "fundamental" entitlement for every human being, every person and that you never lose them.
Andrew mentioned that the University of Essex has started outreach programs and projects, including producing and distributing a survey to better understand local concerns and situations. His passion on the subject was clear from the outset which continued as he explained some information of his own background. Council estate kid, deprived area, he played on bomb sites as a child, living on benefits with a no good dad and a mother who was an immigrant. He grew up passionate about human rights before he even knew the name for them and has dedicated his life to them.
Throughout the event, there were question and answer sessions, during which Andrew often offered up further information. When talking about the Philip Alston report he spoke of how it was crucial and a "potential game changer" not only for people battling for their human rights but in mobilising and inspiring others to do so.
The second speaker was a member of Unite Community called Rebecca Rocket, who had not only been crucial in organising the first Jaywick event but had just returned from the UN where she had been on the panel with Philip Alston.
She talked about her personal history and how realising you are not only entitled to human rights, but what those rights are, is a struggle. She explained it is almost always no good if one person stands alone, but a community can make a real difference. She used a workplace analogy of how a single person saying "I want a proper wage" will be ignored but if the whole workforce stands together and shout "we want a real wage" the employer must sit up and listen. Working together is key, she emphasised as did the others throughout.  Another point emphasised was how important information and knowledge is. The government is obligated by law, but most of us don't know what it is they are legally required to do.
Rebecca also spoke of the "amazing privilege" of being asked to attend the UN alongside Philip Alston. She mentioned how it had felt an enormous responsibility and she added a note of humour while explaining she had dealt with that pressure by running daily and while doing so making up Haikus to commit facts she wanted to remember to memory.
At this point, we were shown a specially recorded address to the people of Jaywick, made by Philip Alston himself.
Andrew spoke again, this time telling of the truly shocking statistics presented in Alston's report as well as the government's response to the damning verdict by Philip Alston who has concluded that the government is violating their human rights legal obligations.
Andrews shocking statistics were as follows:
14 million people live in poverty across the UK, that is a population approximately twice size of London and equivalent to 1 in 5.
5 million people live in destitution which is approximately the size of the population of Birmingham.
1 in 3 children in the UK lives in poverty.
We are seeing record levels of poverty and food banks being used.
There has been a dramatic falling life expectancy, which is approximately 18yrs less for people in poverty than in more affluent areas.
Dramatic cuts have been made to legal aid making it much harder, and in Essex and Suffolk virtually impossible, to access.
60% of people in poverty are in a household where one or more members are working.
9 million in poverty are from families with disabled members.
He then went on to quote the appalling response of members of the UK government and civil service in their response to Alston's findings. Chancellor of the Exchequer Philip Hammond replied that it was "Nonsense!" and that they were tackling the issue of poverty by providing more jobs, despite Philip Alston's contradicting evidence that more than half the people in poverty are from households with one or more people working.
The Department for Work and Pensions claimed the report was "Barely believable" and Amber Rudd is reportedly seeking to lodge a formal complaint with the UN against Philip Alston.
It was quoted by numerous members of councils and government that "UK is among one of the happiest places in the world" a statement based on a survey of two to three thousand people. Three thousand people is equal to 0.0046% of Britain's population.
Philip Alston retorted that the government were in denial, distracting from the true issues and attacking the messenger by politicising him as not being an impartial voice. He is determined that the government should be held to account.
Deputy director for Human rights at the University of Essex, Jude Bueno de Mesquita, explained how the meeting held in Jaywick and indeed meetings held across the UK for Philip Alston's visit were incredibly important. She and students had, upon the release of Philip Alston's official report, gone through issues raised at the event in Jaywick and through the report to discover that virtually every issue raised that night was mentioned in the report.
This included the rights of senior citizens and the disabled, housing and social security benefits, sexual violence, women's rights and child poverty. One issue raised in the November event was one of women and girls in poverty not having access to sanitary products when necessary and this was given a direct reference in the report. Other matters considered more general that were also mentioned include mental health, universal credit with the digitalisation of the system and "inhumane" consequences, inappropriate public transport and privatisation of services, lack of adequate housing, extortionate rent and of course austerity.
We were also read some of the recommendations made in the report to solve these problems. Ones considered relevant locally included more funding for local councils in order to tackle austerity and poverty, reviews to be made on policies regarding the elderly, disabled and vulnerable plus many more. Finally, Jude suggested that the review of the report and November event by herself and students could be used as a checklist for future campaigning and activism.
Danny Slogget, the creator and developer of the Jaywick Sands Happy Club spoke next. He is a long time resident of Jaywick having arrived as a child shortly after a local Butlins closed down, so he has watched the place change over time. Danny expressed he had always wanted to give Jaywick a voice, so when Channel 5 did a series about it he agreed to be on it. However, he was not happy with how Jaywick was portrayed so when it came to a second series, Danny struck a deal with the producers. He agreed to appear, on the condition that in return, they help him set up an "adult youth club". The Happy Club now helps people in many different ways, from filling in forms to day trips, events and even running its own food bank when it can.
Lucy Davies from the Essex Law Clinic revealed yet another shocking fact. She stated that legal aid has been cut back so drastically that there is now no housing legal aid in North Essex Essex or Suffolk, which means there are no solicitors or lawyers within these two counties who will see you or represent you in court with legal aid. If you require legal aid there are channels you can go through but it is incredibly difficult to gain and you will find your representative is outsourced to other counties.
Essex Law Clinic, therefore, aims to provide legal knowledge to everyone and help you understand your options and rights. They acknowledge that while unfortunately there are no legal remedies for every problem, there are often others and it is about knowing where your rights stand and what action to take.
It was also pointed out that often one case can cause a ripple effect. An example was given of this where a young mother of four was evicted for not paying her rent with her food and bill benefits as well as those she got for rent. The council in question refused to house her saying her actions meant she had "intentionally made herself homeless".
This case ran for four years via two major charities, going all the way to the supreme court where it was ruled in the woman's favour. The ripple effect of that is yet to be seen but it is hoped that councils will no longer be able to turn homeless families away so easily.
This subject led quite neatly on to our next speaker, Roy Kerr who spoke about housing discrimination. He asked how many remember the "No blacks, no Irish, no Scots" discrimination there used to be with renting and how now there is huge discrimination against people on benefits. Banks were promoting and giving out buy to rent mortgages with a "No DSS" clause. When the crash happened banks were bailed out by taxpayers money to a sum equivalent to approximately thirty thousand pounds per person in the UK. Then, whilst the working classes struggled against austerity policies and significant cuts to public services under a Conservative government those same banks promoted these "No DSS" mortgages all while wages dropped and the number of affordable homes decreased.
Roy then told of how four individual organisations had begun, across the UK all based on the same idea. To help with affordable housing. Individually they started helping people who were being evicted or living in houses of bad disrepair however, they began to collaborate and decided to take action against the DSS clause. Their method was to picket lots of branches of the banks offering these mortgages across the country with one demand: drop the No DSS clause.
This method quickly gained national attention and initially, one bank, Natwest, offered to consult on the matter but quickly proceeded to ignore contact from the organisations. A vote was made for more action but almost before it could start Natwest got in contact and agreed to remove the DSS clause in return for no more action against them. TSB and Santander, among others, have also followed suit. This proves a very important point: Peaceful, organised protests and campaigns can and will win.
Our final speaker of the night, Koldo Casla, is from an organisation called Just Fair. This organisation analyses reports and documents on social rights in the UK before using the data to campaign for change. They currently have four main projects. Among these are workshops on how to successfully campaign for a cause or change and they are currently creating a manual on how to run these workshops to be rolled out nationally so it can be tailored to local issues and used more effectively by greater numbers.
Just Fair is also working on the "Socio-economic duties of councils". When the local elections ran in May, they approached all the candidates asking if they would pledge to make sure accurate reports on inequalities were made if elected. Fifty-eight responded that they would. This is now in the follow-up stage Koldo explained that the candidates who pledged and were successfully elected are now being asked again if they mean to keep that promise.
Based on Philip Alston's report, a motion for local councils across the UK has been drafted by Just Fair. It is a motion to take seriously the conclusions of the report and take action to solve the issues raised. So far Tyneside, South Tyneside, Middlesbrough and Newcastle, which has the biggest food bank use in the UK with forty-six thousand a year relying on them, have all agreed to put forward the motion.
Following the speakers, there was a free discussion between the community and the organisers. "Jaywick is number one in the country for deprivation, but Tendring is number one in Essex. People just survive." one man said. It was agreed that there is a stark contrast between Tendring District Council and the neighbouring Colchester Borough Council. "Colchester is very willing to work with us" was the opinion expressed, no one had a good word to say regarding Tendring Council. "They ignore emails but are violating human rights" someone stated.
A resounding message was given, not only residents but echoed by visitors who attended this event and the one in November. "The spirit at the first event was so uplifting, having the second one here was a no-brainer" one organiser explained and a visitor stated that "What I love about Jaywick is your community spirit. You can do great things. We want to stand with you." in a call of alliance.
"I've lived in many places, but Jaywick is the most caring place I've ever lived" another resident announced. "I am proud to live in Jaywick".
Unite Community member, Nic El-Safty, thanked the crowd for attending. "We need you as much as you need us. We have had enough and it is time we all got together and pushed and pushed and pull together as a team, come together we will not win every fight but we will win the war." She vowed. The feeling seemed mutual and with an atmosphere suggesting people may be starting to see hope where they had lost it.